(CNN) -- Joseph P. Lashinsky is the present chief executive officer and president of ZipRealty, having served on the Board of Directors since June 2007. He previously held the positions of Executive Vice President of Product Strategy and Development, Vice President of Marketing and Business Development, and Vice President of Sales.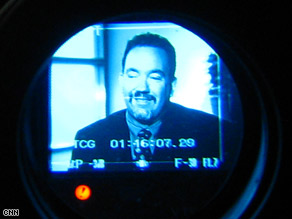 Joseph P. Lashinsky reveals a bit about his personal self during an interview with Maggie Lake.
Prior to joining ZipRealty, Lashinsky was the lead for new product development at Del Monte. During his 10 years of experience in marketing, he has also worked with Taco Bell, and was responsible for the creation and development of Go-Gurt Yogurt in addition to managing brands such as Pop Secret and Chex Mix at General Mills.
Lashinsky holds a Masters of Business in Marketing from the University of California at Los Angeles and a Bachelor of Arts in Political Economies from the University of California at Berkeley. He has taught marketing classes at Wharton School of Business and the Anderson School of Business at the University of California at Los Angeles.
During his interview for The Boardroom with Maggie Lake, he said his favorite area of his house was the backyard.
"I've got an outdoor sauna and shower in the backyard," he said. "It's fun because it gives me a getaway location. I can just use it by myself, and it's just something most people don't have. Whenever anybody comes by the house, everybody just loves the fact that there's a sauna. And I didn't put it in, it was there when we got the house."
He also loves to have fun.
"I play any different kind of sport that's out there," he admits. "I love to tease people, I'm kind of a natural jokester. I'm always coming up with fun practical jokes to play with people. Something I love to do in my free time is to develop fun little things to do with others."
E-mail to a friend