From Jo Causon for CNN
(CNN) -- Our organization has a high proportion of older staff, many of whom are nearing retirement. How can we attract younger managers to achieve a wider age range across the workforce in the future?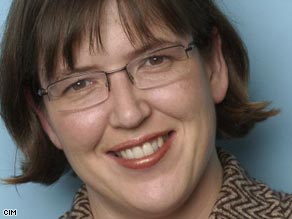 Jo Causon, Director, marketing and corporate affairs, Chartered Management Institute
Research by the Chartered Management Institute looking at career needs and aspirations reveals a number of factors influencing the career decisions of younger managers. Clearly financial rewards will play a part in attracting fresh talent but, according to the figures, employers looking to attract Generation Y also need to focus on career development, working environment and values.
Building new skills is a key priority for younger managers, with almost two-thirds claiming to have a personal development plan in place. Indeed, 75 percent of managers under the age of 35 say that long-term career opportunities influenced their decision to join their current organization. With this in mind, it is crucial that you are showing a commitment to developing young managers' skills and competencies. Individuals will quickly become demotivated if they feel that their desire to learn and progress in their role is not supported by their employer.
As well as providing a clear training and development plan, you will be more successful at attracting younger managers if you provide a structure to their career progression. Sixty percent of Generation Y managers in the Institute's study say they expect continued promotion over the next five years, so it is important to outline the career opportunities available to them. If, as may be the case, there is no opportunity to move up, offer the chance to work cross-functionally or manage projects. Young managers are looking to be challenged and develop transferable skills, not tied into a rigid job description with limited opportunity to move around.
Don't Miss
A flexible and accommodating workplace that will attract young managers is as much about culture as processes. In the Institute's research, young managers were looking for employers who embrace the notion of a boundary-less office. In other words, Generation Y accepts and is willing to put in the long-hours required in today's environment but expects to be supported in terms of integrating their personal lives with work. Offering remote and flexible working options will make your organization more attractive to young managers, as it presents the opportunity to balance personal and professional commitments more effectively.
Overall, managers under the age of 35 are looking for an employer who fits with their lifestyle and their values. The overwhelming majority of individuals say they want to work for an organization which does something they believe in, and over half will only work for an organization with strong values. Clearly, you cannot predict the values of each individual and shape the organization around them. But having a clear, strong and well-communicated set of values will ensure that young managers know who you are and what you stand for from the offset.
Jo Causon
Director, marketing and corporate affairs
Chartered Management Institute
The Chartered Management Institute is the only chartered professional body that is dedicated to management and leadership. It is committed to raising the performance of business, supporting and advising individuals and organizations, and to help tackle the management challenges you face on a daily basis.
E-mail to a friend