(CNN) -- At a time when many of the world's airlines are cutting back due to rising fuel costs, British Airways announced Thursday that OpenSkies, its new subsidiary airline, will begin a scheduled service between Paris and New York.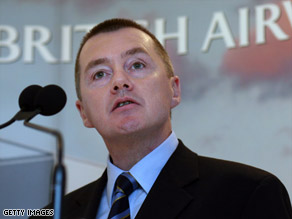 BA CEO Willie Walsh is confident that OpenSkies can operate successfully in a difficult economic climate.
OpenSkies is the first airline created specifically to take advantage of the EU U.S. Open Skies aviation agreement that enables carriers to fly between any destinations in U.S. and EU.
"This is an exciting new chapter in our history as, for the first time, we will be flying directly between continental Europe and the US," British Airways' chief executive Willie Walsh said in a statement on the BA.com Web site.
He added: "We are confident that OpenSkies will have a successful future. It will benefit from British Airways' experience in the transatlantic market and have the ability to be innovative and respond quickly to changing customer demands.
"While the economic climate has worsened in recent months, we believe that OpenSkies can compete effectively. It has a low cost base and support from British Airways in key areas such as sales and marketing. This differentiates it from some new airlines that have failed recently which were operating in isolation without the backing of an established carrier."
OpenSkies' customers have a choice of three cabins onboard the Boeing 757 aircraft. Biz, the business class cabin, has 24 seats that convert into the only fully flat beds in the Paris-New York market. Prem + offers 28 reclining leather seats with a 52" seat pitch while there are only 30 seats in the economy cabin, allowing a less crowded and more attentive service.
All seats have personal entertainment units with more than 50 hours of programming, and customers will be offered what BA describes as a "fresh, healthy and creative meal service".
A second Boeing 757 is scheduled to join OpenSkies later this year from British Airways' fleet and there will be six OpenSkies aircraft by the end of 2009. Other European destinations being considered for the airline include Amsterdam, Brussels, Frankfurt and Milan.
E-mail to a friend

All About British Airways plc • European Union