From Klaus Heymann for CNN
Klaus Heymann, chairman of Naxos, the classical music publishers, answers your questions on business exclusively for The Boardroom.
(CNN) -- "How do you protect the work you publish from piracy, especially when so much digital content is available for download on your own site?"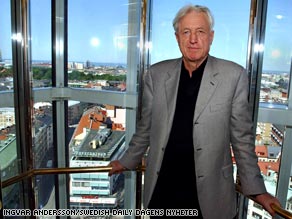 Klaus Heymann, founder and CEO of independent classical music label Naxos
Classical music does not suffer from online piracy nearly as much as pop and rock.
Classical record labels mostly sell album concepts with one or two works with average playing times of around 25 to 30 minutes each.
These are more difficult to download than a rock or pop track of around five minutes or less.
At the same time, sound quality is important to classical music collectors, and most are not really satisfied with heavily compressed files. Higher-quality files are much bigger and are more difficult to download.
Also, classical record collectors want the booklet texts and the attractive packaging many classical albums have to offer, including lyrics, and often prefer purchasing the physical CD to downloading files.
Having said that, we constantly monitor all relevant pirate sites and send out letters threatening legal action if the sites don't take down our content.
I don't think there's much else we can do other than making our recordings as widely available and as easy to find as possible online and in stores, and producing CDs people still want to purchase.
Physical sales of classical recordings are actually quite stable, whereas our revenue from legitimate digital downloads continues to grow nicely.
We made our entire catalog available for streaming online, free, in 1996 so that people could listen to our recordings before purchasing them.
At that time, the rest of the industry was still trying to figure out ways to block the delivery of recordings over the Internet.
If the industry had gotten together in the late 1990s and come up with a concept like iTunes, it could have avoided most of the piracy problems it has been experiencing in recent years.
Pop and rock labels and their artists will have to come up with new concepts including releasing really strong albums that consist of more than just one or two good tracks with everything else being fodder.
E-mail to a friend