(CNN) -- Virgin Media stepped up its campaign to combat music piracy Thursday, when it issued letters to around 800 customers warning them against downloading illegal music files via file-sharing sites.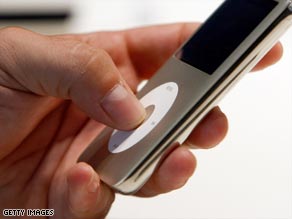 The record industry has long grappled with how to wrest back control of digital music.
The British Phonographic Industry (BPI), the body which represents British record companies, confirmed the move in an interview with the BBC.
BPI teamed up with Virgin Media in June to launch an "education campaign" to stop customers illegally downloading music. As part of the campaign, customers whose accounts have been used to distribute music in breach of copyright will receive two "informative" letters -- one from the Internet Service Provider (ISP) and one from the BPI.
According to the BPI, the letters include advice on "how to prevent account misuse," "avoid the risk of legal action," and warn customers that peer to peer networks carry "increased threats from viruses and spyware."
Virgin stopped short of threatening any of its subscribers with disconnection, saying it first wants to "educate" customers during the 10-week campaign. However, the BPI will issue written warnings threatening both disconnection and a court appearance for those who continue to download illegally.
A Virgin spokesman said in a statement: "We want people to enjoy music online without infringing the rights of musicians and music companies. This campaign is about helping our customers understand how they can do this."
Although illegal copying has become widespread, the scale of the problem uncovered by a recent survey by the University of Hertfordshire left the music industry surprised. On average every iPod or MP3 digital music player contained over 800 illegally copied songs.
Users copy files illegally by downloading software from the internet to gain access to a file-sharing network. When the software is in use, and the user's connection to the Internet is open, the "file-sharer" can trade music files (by uploading or downloading) with others who are online.
The UK government has come under increasing pressure from the music and film industries to take action against users who download pirated files. Although piracy is illegal, prosecutions are rare.
While Virgin Media is the only ISP to have signed up to the BPI's campaign, the UK's other leading Internet providers -- BT, Tiscali and Orange -- have been in talks with the music and film industries on a joint voluntary agreement to share information on web violators.
However, under the legislation they could be forced to cut off customers. ISPs which fail to enforce the rules could face prosecution, and suspected customers handed over to the courts.
E-mail to a friend

All About Virgin Media Inc. • Internet