(CNN) -- Despite concerns about a global slowdown, business for Ed Dolman is better than ever.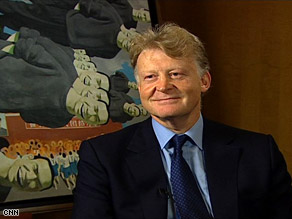 Edward Dolman, CEO of Christie's auction house
Dolman is chief executive of Christie's, the auction house founded by James Christie in London in the 1760s.
Today its reach spans around the world, auctioning everything from watches to clocks, diamond-encrusted tiaras, and -- if you have some 120 million U.S. dollars to spare -- this massive Andy Warhol portrait of Chairman Mao.
The Boardroom's Andrew Stevens sat down with Dolman in the middle of Christie's record auction in Hong Kong.
Stevens: Christie's had sales of around 6.3 billion dollars last year and a 36 percent American dollar increase. Do you think you can maintain this sort of growth?
Dolman: No, I mean we are always very cautious, and every year and even last year's 36 percent increase, we did not even forecast or expect. We actually thought we might see a little bit of cooling off because of what's happening in the world economy, but that hasn't been the case. You know, I'm beginning to think that we actually might grow again, it might not be 36 percent, but it's pretty encouraging, what's happened so far.
Stevens: If you look at the numbers of what's been happening in the art sales, your total sales up 36 percent last year, Asian art sales up 38 percent, post-war and contemporary artwork up 75 percent in sales. Is this not a bubble?
Don't Miss
Dolman: It's not a bubble. It's definitely not a bubble. This is all about a change or a shift in taste. It is a revolution in our business, and what we have seen is people's tastes in art, what interests them, has changed, and that is what is driving the market.
Stevens: On pretty much your first full day as CEO, the owner of Christie's handed you a document which showed collusion, or alleged collusion at the time, between top management at Christie's and top management Sotheby's over setting commission prices. How did you handle that?
Dolman: It was not a good moment, I can tell you, and I wouldn't wish it on anybody. We had to act and go in and hold our hands up and say, "Look, this is what we found, we weren't aware of it before as an organization, we are now aware of it, and we're coming to you straight away." Once that has happened everything is thrown at you, and we had class action started throughout the world. We had the press consistently writing one story about Christie's, one story, one story -- and it's about the antitrust case. It's like you've been thrown into a river full of piranhas, and you have to try and steer your way through that.
Stevens: You started at Christie's in 1984. I believe you were a porter, which most young trainees did start as in those days. What do you think has been the most important lesson in your rise to the top?
Dolman: I think for businesses like mine and a lot of others, I think a chief executive that has started from the bottom and understands more or less every job in the organization is in an extremely privileged place, and is a much better chief executive as a result of it.
E-mail to a friend

All About Christie's International plc • Auctions