(CNN) -- Those looking for a bit of harmony in their romantic lives need look no further than the web, according to eHarmony CEO Greg Waldorf. Just one of countless online dating services, e-Harmony is very clear in its ultimate goal for its users: marriage.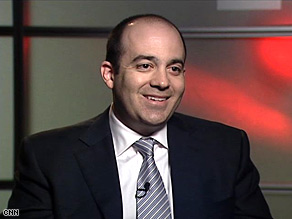 Greg Waldorf, CEO of eHarmony
The company takes a scientific approach to love, requiring its 20 million users to fill out a 250-question "Relationship Questionnaire," which covers 29 so-called "dimensions" of compatibility. Waldorf tells The Boardroom's Maggie Lake how eHarmony plans to help get its users to the altar.
Waldorf: We have a totally different approach at eHarmony on how we match people. Instead of just having our users browsing through photos, we actually have a matching engine that starts by getting to know the customers. They take a questionnaire which generates a personality profile for us, and then we are able to deliver them matches from what our research shows is the most compatible match.
Lake: Some people think that sounds impresonal. Do you think you can find love, find marriage through technology? There seems to be something at odds there?
Waldorf: I think to answer the question is to talk to the people who got married through eHarmony. We are talking about tens of thousands of people, on an average day in America now 236 people. And if you talk to them and say, tell me your story, tell me how you met, it is just as special, just as romantic. People remember the first message, the first phone call, the first date, the same way people who may have met another way.
Lake: Where does the growth come from now?
Don't Miss
Waldorf: A lot of happy marriages, a lot of happy families are getting started. And while the business has been around for eight years, those facts are just starting to hit people who have been sitting on the sidelines and really do want that long relationship. If this can get them over the hump, our U.S. business will cotninue to grow enormously, and then I think international is a huge opportunity that we haven't even touched.
Lake: While e-Harmony is currently focused on the North American market, it wants to spread the love -- it just needs to figure out how.
How much do you have to change when you do that?
Waldorf: We have to change our matching models when we go into new countries. But what we have also found is that people talk about long-term relationships, and they have expectations and desires that I would describe as very universal.
Lake: You are someone who comes from a technology background, you are an entrepreneur in technology. Has it been hard to manage a situation where, yes, you use technology, but it is really about relationships?
Waldorf: I mean, this is a service that people come to with incredible expectations, that presents a challenge for us because they want to meet their soul mate, they want to meet the special someone. But if I can use technology and my background is around things that are more technical, by bringing that to the end-consumer, it is very, very satisfying.
Lake: What has been the hardest thing about being CEO, and what makes it different from your experience as an entrepreneur?
Waldorf: I think when you are the CEO of a business of some scale, I sort of describe it as a realization that you really can't do anything yourself. If you are the key person to make something happen, you know that it probably won't happen because time is my shortest commodity. I dont' have enough of it, but it really emphasizes why bringing great people to our team is the best thing I can do for our business.
E-mail to a friend