SYDNEY, Australia (CNN) -- This is not just child's play, it's big business. "The Wiggles" are a hit among the toddler set. But that wasn't always their intended audience. The group initially tried their hands at rock -- under a different name -- in their native Australia.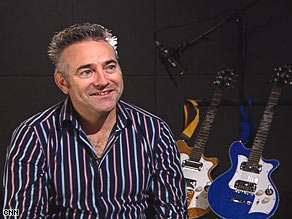 Paul Field, managing director of "The Wiggles"
Eventually, with degrees in childhood education, Anthony, Murray, Greg and Jeff swapped rock for rhyme and became icons to the young.
In 17 years, they've sold 17 million DVDs, 4 million CDs, and continue to play to capacity crowds around the world.
At The Wiggles global HQ on the outskirts of Sydney, The Boardroom's Andrew Stevens asked managing director Paul Field -- an accomplished musician in his own right and brother of Anthony -- what is the secret of their success.
Field: It's a confluence of reasons really, I think it's, um, firstly the music is engaging, and it's a huge part of their appeal. Secondly, the guys are also not cast members, they are actually the creators of the brand and the show. And that informs everything they do: the songs, the stories, their characters. So the confluence of all those three factors, plus an "X factor," makes them quite unique.
Stevens: Now you've seen it up close, what is it? How do you create the "X factor," or is it a total mystery?
Field: You have to lose your ego when you're a preschool teacher, you know. Their audience, you know, our audience is egocentric: There's only one person in the world and it's them, right? So once you know that, you can guide your songs, your stories to that.
Stevens: Was there a business plan right from the beginning?
Field: There was not a business plan, no, it was creatively led. And I think with a lot of things, it's best that way, it was organically grown and they wanted to do it 'cause it was fun. And they had this, well, in Jeff and Anthony's case, a musical background and an educational background... Let's combine them. And do something unique.
Don't Miss
So that's what drove them in the earliest of days, but from fairly early days it engaged, they were drawing audiences. And so the business became quite busy that Anthony and Murray had to make the decisions to leave teaching, which was a big decision at the time, and go on the road, because this business was there.
So in the earliest of days and they did this for five or six years plus their model was "we tour," which drives the business. And they toured 10 months of every year right around Australia, and they would release one DVD and CD per year. And that was the model and that pretty much was it, and we've just refined that over the years. And it wasn't really I suppose till the late nineties, mid to late nineties, once there was interest from the USA when we thought, ooh, this could actually go beyond our shores.
[ It certainly did, not only in the U.S. From Japan to Latin America to Taiwan, the Wiggles became a hit. ]
Field: Ok, so this is our recording studio, and this is where we record all the Wiggles music, including overseas versions of Wiggles music, so I think we have the Latin American version of "Fruit Salad" ... and we've also got a version in Mandarin, "Fruit Salad."
[ Translating their hits into Spanish and Mandarin has given the Wiggles traction in non-English markets ... while back at home in Australia and in the U.S., they are now chasing the theme-park market. ]
Stevens: Did you ever consider selling out in letting someone like Disney buy the Wiggles lock, stock and barrel, and walking away with a lot of money and still be able to do the Wiggles without the financial headaches?
Field: We have certainly been offered a number of times by different companies, major companies over the years. And the first couple of times it happened it was a bit overwhelming, and the guys were saying, we really love the way we do this, and that was a big part of it. "We don't know what it means." And I'm really glad they made that decision way back over the years, because as a company they are worth so much more now.
E-mail to a friend

All About The Wiggles