SYDNEY, Australia (CNN) -- 1. I owe my success to... my father and mother. My mother instilled a love of music and had all of her seven children taught a musical instrument. My father put family first but worked very, very hard.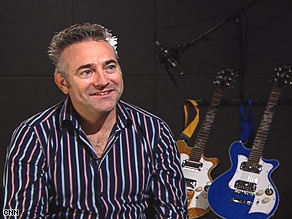 Paul Field, managing director of "The Wiggles"
2. The most inspirational book I have read is "Psalms; Songs of The Way Home" by Paul Glynn.
3. The best advice I ever received was "The best thing a man can do for his children is to love their mother."
4. The advice I wish I'd had would have been not to worry so much about what others think. Though at times, this has been a great motivator.
5. The thing that motivates me most is my family and the desire to be better and do better.
6. The most important lesson that life has taught me is... that everything is temporary. We suffered the death of our daughter and that has had a profound influence on how I view life.
7. I couldn't live without love and music!
8. The person I most admire is my wife.
9. In another life I would have been a roadie for The Rolling Stones (the best view in the house).
10. The worst job I ever had: As a trainee manager for Woolworths I had to open the store for the cleaners at 5 a.m. I was singing in a band at the time and the store manager asked me to choose between retail and rock'n'roll. He should never have asked!
E-mail to a friend

All About The Wiggles