LONDON, England (CNN) -- The UK is facing the worst economic conditions for 60 years and the current crisis will be "more profound and long-lasting" than expected, British finance minister Alistair Darling warned Saturday.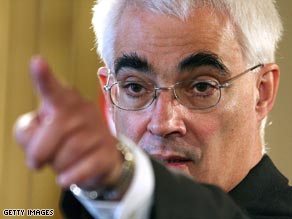 Alistair Darling says the UK is facing its worst economic crisis in 60 years.
Darling's comments are the Government's grimmest assessment yet of the situation, and come after a Bank of England policymaker warned that unemployment could hit two million by Christmas, the UK's Press Association reported.
Darling said that the economic conditions faced by the UK and the rest of the world "are arguably the worst they've been in 60 years," adding: "I think it's going to be more profound and long-lasting than people thought."
Speaking to The Guardian newspaper, Darling admitted that UK Prime Minister Gordon Brown's ruling Labour Party would face a tough job persuading voters that they deserved another term in office.
"This coming 12 months will be the most difficult 12 months the Labour Party has had in a generation, quite frankly," he said. "We've got to rediscover that zeal which won three elections, and that is a huge problem for us at the moment.
But Darling played down the prospects of an early reshuffle by Gordon Brown, and speculation that he could lose his job when the Prime Minister does shake up his team.
"You can't be chopping and changing people that often," he says. "I mean, undoubtedly at some stage before the end of the Parliament he will want to do a reshuffle, but I'm not expecting one imminently. I do not think there will be a reshuffle."
Mr Darling's opinions are bound to be controversial because they are far more negative than those stated by Mr Brown in public. He also admitted that the PM has struggled in some ways.
However, Darling stressed that Mr Brown was one of his oldest friends and he has confidence in his abilities.
Asked whether Mr Brown can communicate Labour's mission effectively, he insisted: "Yes, I do think he can. I do think he will."
Darling's intervention came after David Blanchflower, a member of the Bank of England's Monetary Policy Committee, suggested that unemployment could soon rise to two million as construction workers and banks shed jobs.
Shadow finance minister George Osborne of the opposition Conservative Party said: "Who is telling the truth at the top of Government?
"The Prime Minister says the economic situation isn't as bad people think and that Britain is well placed to weather the economic storm, but the Chancellor says we are at a 60 year low.
"Gordon Brown has briefed out stories that he has an economic recovery plan all worked out, meanwhile the Chancellor says the downturn will be more profound and long-lasting than people thought.
"It's not clear whether Alistair Darling meant to tell us the truth about the mess 10 years of a Labour Government has left our economy in, but he has certainly let the cat out of the bag."
E-mail to a friend