From CNN's Jim Boulden
LONDON, England (CNN) -- Trading on the London Stock Exchange was halted for most of Monday because of a computer fault, interrupting a surge in share prices as markets reacted to a U.S. mortgage bailout.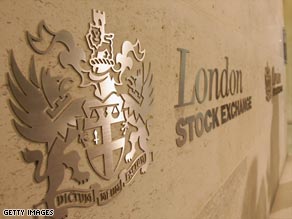 The London Stock Exchange.
The LSE said operations were suspended because of a "connectivity" problem -- meaning that transactions could not be completed -- after customers noticed problems just 45 minutes into the trading day.
Shares had been soaring after the U.S. bailout of its mortgage market. The FT-100 was up nearly 4 percent when trading halted.
The LSE managed to restart normal trading in London at 1500 GMT, with the FT-100 easing back slightly following the morning's 3.8% rise. It was the longest market stoppage since April 2000, according to the British Press Association.
The market's resumption came well after the opening of Wall Street, when the Dow Jones Industrial Average rose more than 2% as investors welcomed the removal of uncertainty following the mortgage intervention.
E-mail to a friend