LONDON, England (CNN) -- World stock markets were in decline again Tuesday, a day after the collapse of one of the largest investment banks in the U.S. contributed to the worst day on Wall Street in seven years.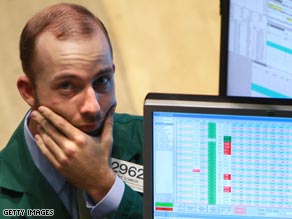 A U.S. trader assesses the latest news on Tuesday as markets reel.
But the main U.S. markets did manage to make some gains despite more bad news from the financial sectors.
U.S. stocks moved higher after the Federal Reserve kept a key interest rate which impacts consumer repayments steady at at 2 percent Tuesday.
The Dow Jones industrials closed up about 1.3 percent and above the psychological 11,000 mark.
The Standard & Poor's 500 index gained 1.8 percent and the Nasdaq composite added 1.3 percent.
In Asia, Japan's Nikkei index fell 4.9 percent and Hong Kong's Hang Seng Index fell to its lowest point in nearly two years when it dropped by 5.5 percent. A leading indicator of stock values in South Korea -- the KOSPI index -- went down 6.1 percent.
At the close in Europe, Britain's FTSE 100 was down 3.43 percent and France's CAC-40 was down 1.96 percent. Key bank stocks were again hit sharply, with HBOS down about 21 percent and Royal Bank of Scotland dropping by 10 percent.
New York-based investment bank Goldman Sachs reported a sharp decline in profits that beat Wall Street's forecasts.
The bank said its profits fell more than 70 percent to $845 million, or $1.81 a share, during the third quarter ending in August. Just a year ago, the company reported a profit of $2.85 billion, or $6.13 a share. Wall Street was expecting a profit of $1.71 a share.
The financial squeeze was being felt in other sectors as shares in the United States' largest insurance firm -- American International Group (AIG) -- tumbled as it scrambled to raise as much as $75 billion to keep itself afloat. iReport.com: How is the Wall Street crisis affecting you?
After the close, AIG shares tumbled around 50 percent on a report that the government is considering conservatorship as a means of rescuing the troubled insurer.
The government put Fannie Mae and Freddie Mac in conservatorships earlier this month, enabling it to oversee operations and protect the assets of the two mortgage lenders.
After the reports, AIG issued a statement saying that its life insurance, general insurance and retirement services businesses are operating normally. The insurer reiterated that it continues to look for means of raising capital to address what it says are short-term liquidity issues.
Earlier Tuesday, European central banks pumped billions more in short-term credit into the financial system for a second day to shore up confidence in the aftermath of the collapse of U.S. investment bank Lehman Brothers.
The European Central Bank launched its second one-day refinancing operation in as many days, offering up a 4.25 percent bid rate. On Monday, it added $42.5 billion to money markets though banks had oversubscribed the offer by three times to $127.8 billion.
In London, the Bank of England provided another $35.6 billion in money to markets, four times the amount it pumped in on Monday.
Across Asia, regulators moved to shore up their financial systems in the wake of the collapse of Lehman.
The Bank of Japan injected 2.5 trillion yen ($24 billion) into money markets Tuesday, while China's mainland central bank cut a key interest rate Monday for the first time in more than six years. Hong Kong's monetary chief announced plans were in place to flush more cash into the banking system if necessary.
The venerable Lehman Brothers investment bank announced Monday it would file for bankruptcy despite frantic efforts to save it.

Watch how the Lehman fallout spread »
British bank Barclays had been engaged in negotiations about a possible takeover of Lehman but pulled out over the weekend.
However, Barclays revealed in a statement early Tuesday that it was interested in acquiring some Lehman assets.
Meanwhile, the Bank of America bought another Wall Street fixture Monday -- Merrill Lynch -- in an all-stock deal worth $50 billion.
As a result of the dramatic developments at Lehman Brothers and Merrill Lynch, the Dow Jones industrial average Monday lost 504 points, or 4.4 percent.
It was the biggest one-day decline for the Dow on a point basis since September 17, 2001, when the market reopened for trading after having been closed in the aftermath of the September 11, 2001 terrorist attacks. On a percentage basis, it was the biggest decline since July 19, 2002.
The Standard & Poor's 500 index lost 4.7 percent, its worst day since September 17, 2001, when it plunged 4.9 percent. The S&P 500 also closed at its lowest point since October 27, 2005.
The Nasdaq composite lost 3.6 percent, its worst single-session percentage decline since March 24, 2003. It left the tech-fueled average at its lowest point since March 17 of this year.
"It was an ugly day," said James King, president and chief investment officer at National Penn Investors Trust Company. "Lehman's failure to find a suitor and Merrill deciding to cash in their chips before a similar fate could befall them really stoked the fears of the public."
Early trading raised concerns in Asia, said CNN's Kyung Lah, but Japanese government officials said the Japanese financial system will recover.

Watch the mayhem in Asia »
"It has been a very rough ride here in Japan," she said.
A major worry, she said, is that export-driven economies, such as the ones in Japan and China, will suffer in the financial crisis because people in the United States are spending less money on the consumer goods that many Asian countries produce.
"The impact here is going to be extreme if U.S. consumer spending continues to plummet," she said.
E-mail to a friend

All About Lehman Brothers Inc. • Merrill Lynch & Co. Inc. • Goldman Sachs Group Inc.