(CNN) -- Asian markets on Friday rallied after Wall Street surged on news central banks around the world were pumping billions of dollars into money markets and the U.S. government was planning a broad program to stem the credit crunch.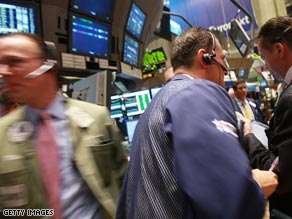 Traders work on the floor of the New York Stock Exchange (NYSE) September 18, 2008 in New York City.
Hong Kong's Hang Seng opened up more than 7 percent, Japanese share prices were up about 3.3 percent, and Australian shares were up about 4 percent. Taipei and Singapore shares also showed gains.
U.S. Treasury Secretary Henry Paulson and Federal Reserve Chairman Ben Bernanke briefed House and Senate leaders Thursday evening on a program to let banks get rid of mortgage-related assets that have been hard to value and harder to trade.
Democrat Barney Frank of Massachusetts and chairman of the House Financial Services Committee said he believes legislation could be acted on next week.
The developments followed news of a package of up to $247 billion aimed at money markets from the U.S. Federal Reserve, the European Central Bank, the Swiss National Bank, the Bank of England, the Bank of Canada and the Bank of Japan.
The injection of cash, which amounts to an expansion of up to $180 billion in available funds, is an effort to fuel economic activity.
The New York markets had most time to digest and react, and the Dow Jones industrials, the Nasdaq and the S&P all ended the day more than three percent up. The Dow wiped out much of its Wednesday losses which was its second worst day of the year.
In Europe the picture was positive for much of the day but by close of trading, Britain's FTSE-100 was down half a percent, despite Lloyds TSB's proposed $21.8 billion deal to acquire struggling HBOS, Britain's biggest mortgage lender, helping to ease some concern among traders there.
Germany's DAX finished down 0.39 percent and France's CAC 40 index down 1.5 percent.
Russia's main stock exchanges suspended trading for a second consecutive day as the government tried to stop plunging in share prices and restore confidence.
In Latin America, markets in Argentina and Brazil rose on Thursday during a rollercoaster week.

Watch reaction to the Wall Street turmoil in Buenos Aires »
Hong Kong's Hang Seng sank more than 7 percent at one point on Thursday, but closed flat as Asia shares staged an afternoon comeback to partially recoup losses.

Watch what's being watched in Asia »
With major financial and insurance institutions teetering, commercial banks have tightened their lending policies and increased interest rates, taking billions of dollars out of the economy.
Under the rescue plan, the European Central Bank will inject up to $110 billion, the Swiss National Bank up to $27 billion, the Bank of Japan up to $60 billion, the Bank of England up to $40 billion and the Bank of Canada up to $10 billion.
In addition, the Federal Reserve acted to ease a spike in overnight lending rates in the U.S. by injecting $55 billion into the domestic banking system.
"We're very grateful that the rescue package has been put on the table, because frankly the world's inter-bank markets are just simply not working in the manner that they should do," said David Buik of the BGC Partners brokerage firm in London. "There's a wholesale mistrust ... amongst everybody."
"It is essential that the central banks do stand there and massage the trust back into action," Buik said. "Without them, we would be in unbelievably uncontrollable turmoil."
Britain's Financial Services Authority also temporarily stopped short selling -- the practice of selling securities the seller does not own, in the hope of repurchasing them later at a lower price. TIME.com looks at the short sellers
It is an attempt to make money out of an expected fall in price and has been partially blamed by some analysts for pushing down share prices.
Thursday's more positive news contrasted sharply with the previous day on Wall Street, when the Dow Jones industrials tumbled 449 points -- its second worst day of the year, but only the second worst day this week. The Nasdaq and the S&P also suffered drops of more than 4 percent.
The sell-off came in the wake of investment bank Lehman Brothers' bankruptcy, Merrill Lynch's sale to Bank of America, and the U.S. government announcing an $85 billion plan to bail out insurance giant American International Group (AIG).
American financial investor Jim Rogers told CNN: "It's going to get worse. There are going to be more bankruptcies. There's going to be a big cleanout in the financial system."
"It's a complete collapse of confidence," Francis Lun, general manager of Fulbright Securities Ltd in Hong Kong, told The Associated Press. "The financial crisis in the U.S. is hitting everyone, everyone is running for cover. If the largest insurance company can fail, than no one is safe."
The remaining two Wall Street investment banks were hit particularly hard on Wednesday with Morgan Stanley down 29 percent and Goldman Sachs down 21 percent.
British bank Barclays said it had reached a deal Wednesday to purchase key units of U.S. investment bank Lehman Brothers for $1.75 billion.
The deal came just two days after Barclays walked away from talks to buy the beleaguered financial institution in its entirety.
Barclays will acquire Lehman's North American investment banking and capital markets businesses for $250 million in cash.
Barclays will also purchase Lehman's New York headquarters and two data centers in New Jersey at their current market value estimated at $1.5 billion, a company statement said.
E-mail to a friend

Copyright 2008 CNN. All rights reserved.This material may not be published, broadcast, rewritten, or redistributed. Associated Press contributed to this report.
All About American International Group Inc. • Financial Markets