WASHINGTON (CNN) -- U.S. lawmakers were set to hold urgent talks with Treasury and Federal Reserve officials over the weekend to nail down details of a $700 billion economic rescue plan designed to eliminate the "toxic debts" that have pitched Wall Street and global markets into chaos over the past week.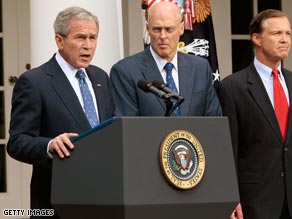 U.S. President George W. Bush says the U.S. is responding to unprecedented challeges.
Stocks rallied around the world as details of the rescue plan emerged with New York's benchmark Dow gaining 7.3 percent since late Thursday, its biggest two-session gain since October 2002. London's FTSE 100 jumped 8.8 percent, Shanghai closed up a record-breaking 9.5 percent and Hong Kong gained 9 percent as investor confidence returned.
Markets had endured massive losses earlier in the week following the collapse of U.S. investment bank Lehman Brothers, a Bank of America buyout of Merrill Lynch and a government bailout of insurer AIG.
Speaking to reporters on Saturday, U.S. President George W. Bush said that the package he is recommending to help strengthen the country's ailing financial sector includes up to up to $700 billion to purchase mortgage-related assets at a discount from banks and mortgage companies who were unable to sell or trade them.
"It is a big package because it's a big problem," hesaid at a joint news conference with Alvaro Uribe, the president of Colombia.
"We moved, we moved hard and I believe this is gonna work," he said. "The American people have got to know that I made this decision along with a lot of experts because it was necessary to protect them."
Bush added, "In the long run, we're going to be fine" and he cautioned against blaming anyone for the mess. "Now is not the time to play the blame game," he said. "From our perspective, it's time to solve the problem and that's what we did."
"The risk of doing nothing far outweighs the risk of the package," he said. "And so I decided to act and act boldly."
Congressional leaders vowed Friday that they were determined to quickly pass a massive plan to stabilize the financial market after hearing a "sobering" assessment from Treasury Secretary Henry Paulson, Federal Reserve Chairman Ben Bernanke and Securities and Exchange Commission Chairman Christopher Cox during a meeting on Thursday night.
"I've never been in a more sobering moment in my 28 years with the language used, careful language used by the financial leaders of this administration, of this country," Chris Dodd, Democratic Senator for Connecticut and chairman of the Senate Banking Committee.
Charles Schumer, Democratic Senator for New York, said he had "gulped" when told what might happen to the economy if Congress failed to act and said lawmakers had agreed to set party differences aside to address the financial crisis.
"If the American people were a fly on the wall at the meeting, they would have been proud," Schumer said in a statement. "Everyone put aside their partisan differences and agreed to work together to pass something to address the state of the economy."

See the historical precedent for federal bailouts »
Details of the Treasury Department plan, which involves allowing a federal trust to buy bad mortgage assets from banks at a discount, were sent to lawmakers on Friday afternoon, according to reports.
Speaking at a news conference, Paulson said the government's "bold approach" would cost "hundreds of billions" of dollars, but would cost U.S. taxpayers "far less than the alternative." He noted that the government "must take further decisive action to address the root cause" of the crisis.

Watch Paulson say billions will be needed »
A top Senate Democratic aide said "key players" in the Senate -- including Dodd and the Senate Banking Committe's ranking Republican, Alabama Senator Richard Shelby -- would be working through the weekend on the proposal.
Several lawmakers said they expected to make only "tweaks" to the Treasury proposal.
"There is not supposed to be a lot of negotiations. Everyone expects [the language] to be pretty on the money in terms of what they said last night," the Democratic aide said.
Barney Frank, the Democratic chairman of the House Financial Services Committee said committee members would work on the bill Wednesday and said Congress would pass the legislation before it adjourns, currently set for September 26. House Speaker Nancy Pelosi said Congress could stay in session past then, if necessary.
Despite bipartisan support, some conservative Republicans expressed concerns about the cost of the plan to taxpayers.
"We realized there's stress, more than discomfort in our financial markets," Shelby said, but "this could be a trillion dollars. The taxpayers can't front everything, can't pay for everything. Some people have got to pay themselves."
The developments followed news of a package of up to $247 billion aimed at money markets from the U.S. Federal Reserve, the European Central Bank, the Swiss National Bank, the Bank of England, the Bank of Canada and the Bank of Japan.
Kirby Daley of brokerage firm Newedge Group warned that while the government measures would calm the market, they did not offer a long-term solution.
"They wanted to stop the bloodletting, and the panic is over for now, but what happens and what investors are now likely to get caught up in is elation that is not due, and a rally that is not sustainable," he told CNN.
E-mail to a friend

All About U.S. Department of the Treasury • Christopher Dodd • U.S. Federal Reserve