By Peter Walker
For CNN
LONDON, England (CNN) -- It might seen like an untimely question amid the current financial turmoils of the credit crunch, but isn't it about time you treated yourself to something really, really expensive? A Swiss watch, perhaps, or a five-star holiday?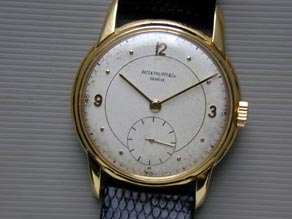 Go on, you know you want to... A Swiss-made Patek Philippe watch.
You might well argue against such fripperies right now -- or ever. However, a new study by two business school marketing professors has found that opting instead for the cheap, plastic watch or for staying at home might save you money now but at the expense of future regret.
More importantly for companies, the innovative study appears to offer hints about how they can market luxury goods by playing to consumers' anticipation of wistful feelings in the years to come.
Anat Keinan of Harvard Business School and Ran Kivetz at Columbia's parallel institution have just completed their paper, "Remedying Hyperopia: The Effects of Self-Control Regret on Consumer Behavior."
Keinan explains the concept: "There is a well-developed literature around self-control issues in the fields of sociology, psychology, and economics. We all know that people can be too impulsive and yield to temptation. Our argument is that people can also be too farsighted, or hyperopic. As a result, they have wistful regrets of missing out on life's pleasures when they look back at how they spent their time."
In one study, the pair assigned 57 shoppers at random to two groups, both of which were given the dilemma of choosing between an expensive clothing item that they loved and a cheaper, less desired but equally useful equivalent.
Both groups were asked to predict which choice would make them feel more regretful. One, however, was asked to consider their decision from the distance of 10 years in the future and the other to predict their feelings the following day.
The professors found the imaginary shoppers in the 10-year group more likely to regret making the cheaper purchase.
Even more interestingly, after the study group then went on to do some real shopping they were asked, without prior warning, to rate their purchases on a sliding scale of practical versus pleasurable. The findings? Those in the 10-year group had been more self indulgent.
Keinan notes: "It's possible to motivate consumers to indulge and enjoy themselves by simply asking them what they think they will regret 10 years from now.
Fact Box
FT MBA Rankings
1. Wharton, U.S.
2. London Business School, UK
3. Columbia, U.S.
4. Stanford GSB, U.S.
5. Harvard, U.S.
6. Insead, France/Singapore
7. MIT: Sloan, U.S.
8. IE Business School, Spain
9. University of Chicago GSB, U.S.
10. University of Cambridge: Judge, UK
Source: Financial Times 2008

"Marketers can convince consumers that buying their product is actually a farsighted behavior. In that sense, consumers are investing in future memories."

This idea doesn't just hold true to durable goods. The paper also recounts another study in which both current college students and alumni returning for a 40th reunion were asked to assess their level of regret about how they spent their winter breaks.

Some students were asked about a just-ended break and others quizzed about one a year ago. Those who had spent the time working and studying were more likely to feel regret about not traveling if they were looking back 12 months ago. Such feelings about pleasures missed were even more common in the alumni with 40 years of hindsight.

"The student responses demonstrate that these feelings of regret actually start quite early in life," says Keinan. "We don't have to wait 40 years to learn from the experiences of others."

E-mail to a friend