By Peter Walker
For CNN
LONDON, England (CNN) -- While many of the world's best business brains are exercising themselves over the current global banking and equities crisis, there is another issue which has the potential to dominate our lives far more in the longer term -- energy.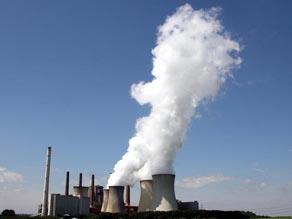 Not so green -- but business schools are looking for alternatives.
Fossil fuels will not last forever, and the race is on to find viable replacements which will keep the globe moving by the time oil, coal and gas stocks run dry, or at least before they become ruinously expensive.
Innovation is at the heart of business, so it's no surprise to see business schools taking the lead in planning for a post-oil world.
This week, Judge Business School at the UK's Cambridge University held a pioneering conference intended to get the best minds in ecological entrepreneurship together and swapping ideas, not to mention business cards.
The three day event, Entrepreneurship for a Zero Carbon Society, which ended on Wednesday, brought together international experts on tackling climate change to present and listen to the latest research and ideas.
It was devised by a 2007 MBA graduate from the school, Marisa Teh. She said: "I could see that despite an emerging awareness of climate change and a flurry of events on the topic, concerted efforts to stimulate wider debate that resulted in the generation and investment of concrete solutions had, to date, been limited."
The concentration of high-tech firms in and around the Cambridge area -- the UK's so-called "Silicon Fen" -- meant the school was ideally situated, she explained.
"It could blend cutting-edge energy research and policy with entrepreneurial talent and investment, creating the optimum environment for the development of an integrated approach to achieving a low carbon society."
The conference brought together big hitters from all sides of the energy debate, including senior executives from oil giant BP and major gas and electricity supplier EDF Energy, as well as the head of a leading solar panel manufacturer and a former senior scientific advisor to the World Bank.
Students at the school had a direct involvement: As well as discussing the issues among themselves, the delegates saw presentations of ideas from current student projects, as well as examples of technologies from local businesses.
Fact Box
FT MBA Rankings
1. Wharton, U.S.
2. London Business School, UK
3. Columbia, U.S.
4. Stanford GSB, U.S.
5. Harvard, U.S.
6. Insead, France/Singapore
7. MIT: Sloan, U.S.
8. IE Business School, Spain
9. University of Chicago GSB, U.S.
10. University of Cambridge: Judge, UK
Source: Financial Times 2008

Meanwhile, over at the UK's other famous ancient university, Oxford, one recent student has taken a different approach.

John Martin, who acquired an Executive MBA from the university's Saïd Business School a year ago, has received $100m in funding from a private equity firm for his venture, which aims to develop unusual energy opportunities in northern Europe.

Hansa Hydrocarbons was based on idea Martin put together for an entrepreneurship project on his EMBA about exploiting reserves of coal bed methane, a form of natural gas removed from coal seams.

The new company is concentrating on abandoned natural gas fields in the North Sea as well as elsewhere around the north of Europe.

"We already have a couple of deals in the pipeline," Martin said. "It's really rewarding to be able to demonstrate that our thesis is correct: that we are able to recognize and capture profitable business opportunities in this area."

E-mail to a friend