By Peter Walker
For CNN
LONDON, England (CNN) -- From its humble beginnings as a laboratory tool in the early 1970s, e-mail has become a vital tool of business. It's the first thing most executives check in the morning, and the last thing they do at night.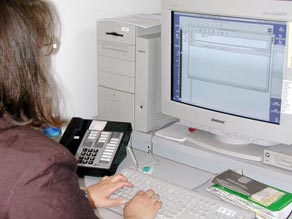 New studies suggest people are more likely to lie in e-mails than in old-fashioned, pen-and-paper messages.
All very well. But can you trust it? A strange question perhaps -- but a relevant one following some innovative (and perhaps alarming) new research by professors at three business schools.
Psychologists have long known that people find it easier to mislead and dissemble in written communication, without the telltale visual clues which help others know when someone is lying.
But the two new studies, by business professors at Lehigh University in Pennsylvania, Rutgers University in New Jersey and Chicago's DePaul University, suggest that people are notably more likely to lie in an e-mail even than in traditional pen-and-paper communication.
More surprising still is that many people actually feel justified when lying in e-mail, the studies show.
The findings are reported in a paper called "Being Honest Online: The Finer Points of Lying in Online Ultimatum Bargaining."
In one study, a group of MBA students were given a supposed $89 to divide between themselves and a fictional second party, who only knew that the amount in question was somewhere between $5 and $100. There was no negotiation; the other party had to accept whatever offer was made.
When communicating their offers via e-mail, 92 percent of students lied about the amount of money available, and said they felt justified in handing over an average of just $29, rather than the $56 equal split.
However, those using pen and paper passed on an average of $34, with just 64 percent lying about the total available pot.
"Keep in mind that both of these media -- e-mail and pen and paper --are text only. Neither has greater 'communication bandwidth' than the other," said Charles Naquin of DePaul University, one of the co-authors. "Yet we still see a dramatic difference."
Fact Box
FT MBA Rankings
1. Wharton, U.S.
2. London Business School, UK
3. Columbia, U.S.
4. Stanford GSB, U.S.
5. Harvard, U.S.
6. Insead, France/Singapore
7. MIT: Sloan, U.S.
8. IE Business School, Spain
9. University of Chicago GSB, U.S.
10. University of Cambridge: Judge, UK
Source: Financial Times 2008

"These findings are consistent with our other work that shows that e-mail communication decreases the amount of trust and cooperation we see in professional group-work, and increases the negativity in performance evaluations, all as opposed to pen and paper systems," said Terri Kurtzberg of Rutgers. "People seem to feel more justified in acting in self-serving ways when typing as opposed to writing."

Hypothesizing that a shared sense of identity might reduce e-mailers' propensity to lie, the researchers set up a second study of other MBA students. This indicated the more familiar e-mailers are with each other the less deceptive they tend to be -- but they still tend to lie.

There were important lessons for the business world in the findings, said Liuba Belkin of Lehigh.

"The study of industrial psychology and the evolving use of e-mail are presenting some interesting challenges for organizations across the board. We know it's a socially acceptable way to communicate, but how that translates in the workplace is a different story entirely."

E-mail to a friend