(CNN) -- Asian and Pacific stock markets followed Wall Street lower Friday as nervous investors sought safer investments ahead of a vote by the U.S. House of Representatives on a revised $700 billion bank rescue plan intended to bolster the ailing financial system.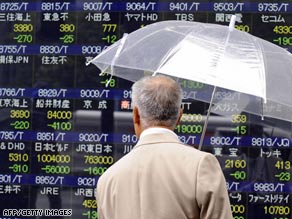 Asian markets fell as investors sought safer investments ahead of the U.S. House vote on a bank rescue plan.
Japan's Nikkei Exchange closed the week down 215.05 points, or about 1.9 percent at 10,939.71 -- a new three-year low.
Singapore's Straits Times Index had sloughed off more than two percent in afternoon trading and the Shanghai Composite was off a fraction. The Taiwan Weighted was up less than a percent -- one of the few markets posting a gain on Friday.
The Australian Securities Exchange was off about 1.5 percent at 4,703.80, and Hong Kong's Hang Seng dropped about 2.1 percent of its value at 17,824.80.
The Korea Exchange in Seoul, South Korea was closed on Friday.
Stock markets on Wall Street and in Europe suffered another tough day Thursday despite the U.S. Senate's approval of the modified financial rescue plan.
U.S. stocks tumbled Thursday as frozen credit markets and weak economic reports amplified jitters ahead of Friday's expected House vote on the bailout.
The Dow Jones industrial average fell 348 points, recovering a bit from a drop of 391 points earlier .The Standard & Poor's 500 index lost 4 percent and the Nasdaq composite lost 4.5 percent.
The rejection by lawmakers in the lower house on Monday threw financial markets around the world into chaos, causing the Dow Jones industrial average to plunge 777 points -- its worst performance since the 1987 crash.
The core of the Senate financial bailout bill is a plan to buy troubled assets from banks, but the proposal includes a number of new provisions aimed at ordinary people struggling under the credit crunch. Bailout explainer: What got killed
The changes -- including $110 billion in tax breaks and other sweeteners -- were intended to attract more votes from the House -- especially from Republicans, two-thirds of whom voted against that version. Explainer: What next for the bailout plan?
The Bush administration, which originated the bailout, applauded the Senate's decision by 74 votes to 25. Both presidential candidates, Barack Obama and John McCain voted in favor, as did Democratic vice presidential candidate Joe Biden.
"With the improvements the Senate has made, I believe members of both parties in the House can support this legislation," President George W. Bush said in a statement. "The American people expect -- and our economy demands -- that the House pass this good bill this week and send it to my desk."
Congressman Barney Frank, chief Democratic negotiator of the bill in the House, told CNN the bill had a better chance of getting passed the second time around.
"The reality has hit some members," Frank said late Wednesday, adding later, "The main change is reality -- it's not possible now to scoff at the predictions of doom if we don't do anything."
Speaker Nancy Pelosi indicated that the House "will act in a bipartisan way to restore market confidence as well as Main Street's confidence in our economic future."
European markets were out of sorts with London's FTSE closing down 1.80 percent at 4,870, Paris' CAC down 2.25 percent at 3,963 and Frankfurt's Dax down 2.51 percent at 5,661.
Banking shares have fallen significantly in recent days and on Wednesday the EU Commission president urged European governments to work together in a bid to shore up financial systems hit by the credit crisis.
European leaders plan to meet Saturday in France to discuss the crisis, a statement from the French president's office said.
The summit will include French President Nicolas Sarkozy, British Prime Minister Gordon Brown, German Chancellor Angela Merkel and Italian Prime Minister Silvio Berlusconi.
Also expected to attend are Eurogroup President and Prime Minister of Luxembourg Jean-Claude Juncker, European Commission President Jose Manuel Barroso, and European Central Bank President Jean Claude Trichet.
Jose Manuel Barroso said it was "critically important for the credibility of markets" for governments to work together to bail out troubled banks. Read more about possible EU rescue plan
Central banks around the world, including the U.S. Federal Reserve and the ECB, have injected billions into money markets in the wake of the Lehman Brothers collapse. Read a timeline of the crisis
The Bank of England said Thursday that banks and other lenders in Britain would make further cuts in lending to households and businesses over the next three months. Read more about lending cuts
Lenders also expect lower demand for mortgages and business loans in the next quarter, tighter terms and conditions on loans, and an increase in defaults on loans, the Bank of England said.
E-mail to a friend

Copyright 2008 CNN. All rights reserved.This material may not be published, broadcast, rewritten, or redistributed. Associated Press contributed to this report.