(CNN) -- Swiss investment bank UBS announced 2,000 further job cuts Friday as part of a company restructuring in response to the credit crisis.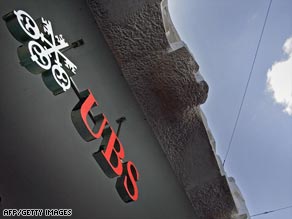 Further job cuts at UBS will reduce staff numbers by 6,000 since 2007.
The move comes one day after the troubled financial giant said it expected to make a small third quarter profit following a year in which it had been forced to write down $42 billion in assets as a consequence of the collapse in the U.S. subprime mortgage market, according to reuters.com.
UBS has already reduced staff numbers by 4,000 in its investment banking division since the third quarter of 2007. The further cuts will bring headcount down to around 17,000 worldwide by the end of the year, UBS said in a statement.
A UBS spokeswoman told reuters.com that most of the job cuts would be in the UK and the U.S., though offices in Switzerland and Asia would also be affected.
"The ongoing crisis in the financial markets and dramatically changed industry dynamics require us to recalibrate our business. While the revenue outlook is uncertain, these measures will allow us to focus on our strengths, reduce the cost base to a more sustainable level and position our core businesses for growth once fundamentals improve," Jerker Johansson, Chairman and CEO of UBS Investment Bank, said in a statement.
E-mail to a friend