By Peter Walker
For CNN
LONDON, England (CNN) -- It's perhaps fair to say that at the current moment, the general reputation of top business executives, especially those running publicly listed companies, has rarely been lower.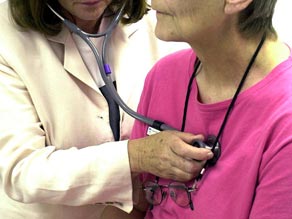 A doctor's oath... Should business managers be forced to meet the same standards?
As banks collapse and insurance giants nearly fold, there is a perception that too many chief executives have been filling their pockets via short-term bonus schemes without concern for the longer-term health of an enterprise built on other people's money.
Witness, for example, the severe grilling dealt out recently by Congress to Richard Fuld, chief executive of the newly-failed Lehman Brothers.
So what can be done? Two business school professors have an idea -- start treating management like a profession.
By profession, Rakesh Khurana and Nitin Nohria of Harvard Business School, mean a system like those for doctors and lawyers, with rigorous pre-entry education and testing, a governing body and a code of conduct.
Of course, as the pair point out in an article for the Harvard Business Review, this idea is in many ways the reason why many US business schools were set up around a century ago.
The schools, they note, were "conceived as a way of legitimating another claimant's right to control the publicly owned corporation: a new group known as managers". However, this notion now needs a revival, the pair argue.
"To regain society's trust, we believe that business leaders must embrace a way of looking at their role that goes beyond their responsibility to the shareholder to include a civic and personal commitment to their duty as institutional custodians," they say.
One key way to achieve this, the pair explain, would be to introduce compulsory education and registration. Thus, in place of an optional two year MBA, all would-be top managers would have to attend a longer, law or medical school-style postgraduate education before taking professionally certified exams. Working managers could even be obliged to take "top up" exams to retain a license.
Of course, the authors admit, this is a contentious idea. Not only would many people be resistant to it, but business consists of a far less fixed set of notions than medicine or even law. There might only be a few ways to set a broken leg, but there are innumerable methods to keep customers happy.
And as they point out, very few people make any headway in medicine or law without accepted training whereas the likes of Bill Gates seems to have done just fine without an MBA.
Fact Box
FT MBA Rankings
1. Wharton, U.S.
2. London Business School, UK
3. Columbia, U.S.
4. Stanford GSB, U.S.
5. Harvard, U.S.
6. Insead, France/Singapore
7. MIT: Sloan, U.S.
8. IE Business School, Spain
9. University of Chicago GSB, U.S.
10. University of Cambridge: Judge, UK
Source: Financial Times 2008

So, they argue, another option would be a sort of professional pledge to uphold generally accepted professional standards. They propose a managerial variant on the Hippocratic Oath, sworn by all doctors.

"Codes create and sustain a feeling of community and mutual obligation that members have toward each other and toward the profession," they say.

There is, of course, one more difficulty. A doctor's stated aims can necessarily be quite simple, whereas it is harder to formulate exactly what constitutes good business practice.

Khurana and Nohria suggest some ideas, including pledges connected to integrity ("I pledge that considerations of personal benefit will never supersede the interests of the enterprise I am entrusted to manage") and transparency ("I vow to represent my enterprise's performance accurately and transparently to all relevant parties").

E-mail to a friend