(CNN) -- Swedish carmaker Volvo said Wednesday it was cutting 3,300 jobs, about 12 percent of its workforce.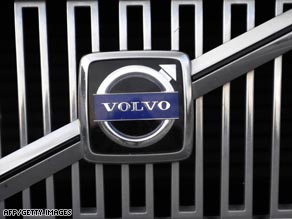 Volvo, which is owned by struggling U.S. auto giant Ford, is cutting 2,700 white-collar and blue-collar jobs in Sweden and 600 outside the country, the company said. The company's workforce at the end of 2007 was almost 25,000.
The carmaker announced about 2,000 job cuts in June.
Volvo was rumored to be seeking buyers for Volvo last year as Ford offloaded lossmaking European brands Jaguar and Land Rover.
But it said last November that the company was not for sale and last month appointed former Ford Europe CEO Stephen Odell as president and chief executive of Volvo Cars. Briton Odell is the first non-Swede to run Volvo.
"These are difficult times for the car industry in general, including Volvo," said Odell. "These actions are necessary to create a new and sustainable Volvo Car Corporation -- a company with more focused operations and structure."
The downturn in the global car industry has been more drastic than expected, Odell said.
E-mail to a friend