LONDON, England (CNN) -- The British government on Monday said it would make a multi-billion investment in three of the country's major banks to help them through the "first financial crisis of the global age."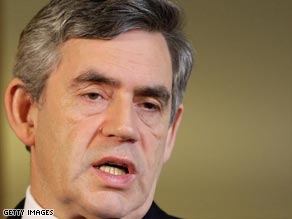 British Prime Minister Gordon Brown says the banks need the support of taxpayers.
The Treasury will pump $63 billion into the Royal Bank of Scotland, HBOS and Lloyds TSB.
"It is not just important to economists and financial experts. It's something that matters for every family and business in Britain," British Prime Minister Gordon Brown explained at a Monday news conference.
"In extraordinary times, with financial markets ceasing to work, the government cannot just leave people on their own to be buffeted about. For savers, for small businesses and for homeowners, we must in an uncertain and unstable world, be the rock of stability upon which British people can depend."
The banks have been battered in the global financial meltdown and the influx of funds is designed to stabilize their positions and boost the country's long-term economic outlook, the Treasury said.

Watch more on the gold rush during the downturn »
Brown predicted other governments across Europe and the United States would take similar action to support banks in the coming days.
"This is the perhaps the first government to do what I believe a large number of governments are going to do over the next few days and it is about restoring trust and confidence in the banking system, which is absolutely essential for a banking system to flourish."
A fourth bank, Barclays, said it would forego the government program and raise $11 billion on its own, by selling new shares of preferred stock.

Watch some Asian markets rise in Monday trade »
The government plan to back the banks was announced last week.
Asked if there is "a plan B" should this action not resolve the crisis, Brown said: "We will do whatever it takes to deal with this problem."
Brown said the global economy required a global framework for supervision.
"This is the first financial crisis of the global age," according to Brown.
"The prospects for the global economy over the next 20 years are very strong indeed," he suggested. "The world economy will double in size over the next 20 years."
E-mail to a friend

All About Financial Markets • Business