(CNN) -- Asian markets were mixed on Friday, a day after Japan's Nikkei had its worst loss in two decades and Wall Street rebounded after an early skid.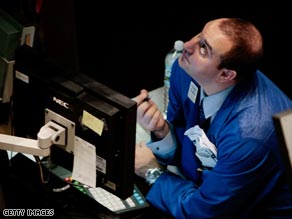 A trader keeps his eye on screens at the NYSE during another day of heavy losses.
The choppy trading came amid fears that a global recession is unavoidable and hopes of bargain-hunting.
Around midday trading, Japan's Nikkei was up 1.5 percent, a recovery from its 11 percent slump on Thursday.
Australia's All Ordinaries was down about a percent, as were South Korea's KOSPI and Hong Kong's Hang Seng indexes. Taiwan Weighted was down 2.2 percent, and the Singapore Straits Times index was off just over half a percent.
Wall Street rallied on Thursday after an early dip. The Dow closed 401 points up -- or about 4.7 percent -- to close at 8,979, recovering from a dramatic 700-point fall on Wednesday, the second largest daily point loss ever. The Nasdaq was up 5.49 percent, and the S&P rose about 4.25 percent.
European markets were universally lower, with London's FTSE, Frankfurt's DAX and Paris's CAC-40 down 4 to 6 percent.
Figures published Thursday showed industrial production in the U.S. suffered its sharpest fall in 34 years last month, and Germany cut its growth forecast for 2009 by a percent to only 0.2 percent.
A World Bank official warned China's spectacular growth would also be hit and Japan's Prime Minister Taro Aso, according to The Associated Press, suggested the U.S.'s $700 billion banking bailout was not enough.
Merrill Lynch, one of the banks whose plight became apparent in September, reported a quarterly loss of $5.2 billion -- it was the fifth straight such loss. The bank agreed to be bought by Bank of America to avoid bankruptcy -- the fate of rival Lehman Brothers.
Meanwhile, European Union leaders meeting for a two-day summit said Thursday they had agreed on the need for coordinated economic policies to deal with current and future financial crises.

Watch what's transpired from the meeting »
At the meeting in Brussels, the 27 EU member states agreed to back plans put forth last weekend by a smaller group of European nations to shore up troubled banks.
That plan would refinance banks, guarantee interbank lending, and ensure that distressed banks do not fail. It also will protect individual depositors' accounts and ease some regulations to give banks more flexibility.
The plan was agreed to by the 15 members of the Eurozone, those countries that use the euro currency. Eurozone leaders presented the plan to the summit Wednesday.
French President Nicolas Sarkozy, whose country holds the rotating EU presidency, said Thursday that Europe was setting an example for the rest of the world in how to deal with the economic crisis.
"I think we've taken the right decisions," Sarkozy told reporters at the end of the summit Thursday. "I think that the decisions taken in Europe are now being used as inspiration throughout the world.
"But there's a whole lot of work that still has to be done to ensure transparency, greater ethical conduct and effectiveness, and that is our priority."
Among the items agreed to at the summit is that the pay and bonuses of company executives must reflect their performance, and that it should also be in line with their company's success.
EU officials also plan to meet with leaders in other countries to start reforming the world's financial institutions so they're better able to cope with future financial crises. It will be on the agenda when Sarkozy and European Commission President Jose Manuel Barroso meet with U.S. President George Bush at Camp David, Maryland, this Saturday.
Eurozone countries and Britain have put up $2.3 trillion to guarantee bank savings and loans and take shares in struggling lenders.
E-mail to a friend

Copyright 2008 CNN. All rights reserved.This material may not be published, broadcast, rewritten, or redistributed. Associated Press contributed to this report.
All About Financial Markets • Business • Stock Activity