(CNN) -- U.S. President George W. Bush defended government interventions in the financial system as necessary to ward off a wider economic crisis.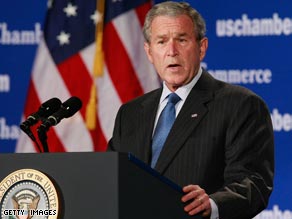 U.S. President George W. Bush tells the U.S. Chamber of Commerce it will take time for the bailout to work.
He spoke on another day of stomach-churning volatility in world markets.
European markets slid early but bounced back to end higher. U.S. markets ended a choppy session with a decline. Major Asian markets also largely closed down.
Bush said: "The U.S. government is acting, and we will continue to act, to resolve this crisis and return stability to our markets."
His comments came as more bad economic news emerged -- this time from the U.S. construction industry with the number of new build homes sliding to a 17-year low.
Applications for building permits are considered a reliable sign of future construction activity, and the sharp fall indicates that home building will continue to be a drag on the economy.
Bush said: "This is an anxious time, but the American people can be confident in our economic future."

Watch more of Bush's speech »
In a speech to the U.S. Chamber of Commerce he said the government is coordinating its efforts with other countries. He added it had taken "credit markets time to freeze" and it would take them "time to thaw."
"If the government had not acted, the hole in our financial system would have gotten larger," he said.
Governments around the world have moved to take stakes in banks and pump more cash into loan markets to boost confidence.
On Friday, Germany's upper house of parliament unanimously voted to adopt a $670.7 billion stabilization package for the country's economy.

Watch how charities are suffering »
In Europe, London's FTSE 100 closed up 5.2 percent, Paris's CAC-40 was 4.6 percent higher and Frankfurt's DAX 30 was 3.4 percent up.
In the U.S., the Dow Jones industrial average fell 127 points, or 1.4 percent. The Standard & Poor's 500 index lost 0.6 percent and the Nasdaq composite lost 0.4 percent.
In Paris, French bank Caisse D'Epargne announced Friday it lost $805 million in the derivatives market last week, but it pointed out it still has more than $26.9 billion in equity.
In an announcement designed to reassure the market, Caisse D'Epargne said: "This loss does not affect the financial foundation of the company and does not have any consequence for the customers."
Some good news came when bank-to-bank lending rates dipped again -- a positive sign for the credit markets and an indication that government moves to boost the economy by pumping trillions into banks was having an effect.
Mike Lenhoff of Brewin Dolphin Securities in London said stability would return -- eventually.

Watch more on the economic gloom »
"(But) We will see the volatility remain with us for a very long time," Lenhoff said.
"I am convinced that we actually will see a recovery. It may take some time, but I'm pretty sure we will see a recovery."
In Asia, Japan's Nikkei closed up 2.8 percent, recovering from its 11 percent slump Thursday -- the worst loss in two decades.
In other Asian-Pacific markets, Australia's All Ordinaries index closed down 1.1 percent. In Seoul, South Korea's KOSPI index slipped 2.7 percent.
The Hang Seng index in Hong Kong was down 4.4 percent in afternoon trading, while the Taiwan Weighted finished down 2.3 percent. The Singapore Straits Times index pushed lower, slipping 2.8 percent. Mumbai's BSE SENSEX was trading down about 3 percent.

Watch more on Iraq and the credit crunch »
"Within Asia, people are getting worried about a recession," Daniel McCormack, a strategist for Macquarie Securities in Hong Kong told The Associated Press.
"Today people are trying to work out which sector, which stocks, which companies are going to get hit and starting to position themselves accordingly."
Investors have been concerned that recent turmoil in the global financial system would trigger a worse than expected slowdown in economic activity.
E-mail to a friend

Copyright 2008 CNN. All rights reserved.This material may not be published, broadcast, rewritten, or redistributed. Associated Press contributed to this report.
All About Financial Markets • Business • Stock Activity