By Peter Walker
for CNN
LONDON, England (CNN) -- If you want to learn about business then who better to hear from than a pair of the world's richest men? But what about an Oscar-winning film director? And how about a former spy chief?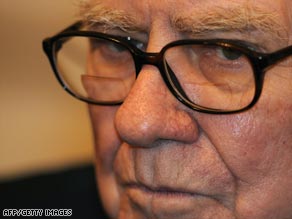 Wealth of knowledge: Warren Buffet is among those giving talks.
Luckily, this wasn't a choice that any individual business school student had to make.
But the fact that over a series of days this month, students from a series of schools got to hear talks by Warren Buffet, Bill Gates, Florian Henckel Von Donnersmarck and Sir Richard Dearlove illustrates a sometimes overlooked advantage of taking an MBA -- the range of influences, not always traditional, to which you can be exposed.
At the more obviously business-linked end of things, MBA students from five US schools traveled to Omaha last week to meet (and even share a steak dinner with) Buffet, the famous investor whose estimated $60 billion fortune testifies to his enduring commercial acumen.
The so-called Oracle of Omaha holds occasional with get-togethers with MBA students from around the country at his Berkshire Hathaway headquarters.
The latest included a 90-minute question-and-answer session with Buffet, as well as lunch at one of his favorite local restaurants, Piccolo Pete's steak house.
It was "a once in a lifetime opportunity to meet with one of the world's most successful and knowledgeable businessmen," according to Anne Thimsen, a second-year student who organized the trip for 27 MBA classmates at the University of Iowa's Tippie School of Management.
"It's probably the only chance I'll have to spend that much time in the same room with such a brilliant man," said James Albert, another Tippie MBA student. "You read about what he says and you read about his insights, but it's another thing entirely to hear what he has to say directly and be able to use it, especially with the economy like it is."
So what of Gates? The Microsoft co-founder was at Harvard Business School last week to treat an audience of students and alumni to his thoughts on the current economic and banking crisis.
"Consumer sentiment has never been so low," Gates warned. "So no matter how quickly this gets fixed, you're still going to have an economic cycle with a fairly significant recession."
The speech was actually arranged two years ago as part of events to mark the school's hundredth anniversary. But its timing meant those in attendance got an impromptu billionaire's guide to the global financial woes.
At the less traditional end of the scale was a lecture this month at the UK's Judge Business School, part of Cambridge University, one of a series intended to explore the crossover between commerce and culture.
Fact Box
FT MBA Rankings
1. Wharton, U.S.
2. London Business School, UK
3. Columbia, U.S.
4. Stanford GSB, U.S.
5. Harvard, U.S.
6. Insead, France/Singapore
7. MIT: Sloan, U.S.
8. IE Business School, Spain
9. University of Chicago GSB, U.S.
10. University of Cambridge: Judge, UK
Source: Financial Times 2008

The first speaker was Henckel Von Donnersmarck, the German director whose movie, "The Lives of Others," won an Oscar for best foreign film in 2007.

He discussed the background to the film, notably the effect the Stasi, communist East Germany's secret police, had on creativity and culture. A response came from Dearlove, the former head of MI6, the UK's external intelligence agency.

"It is not sufficient to simply talk about creativity," said David Andrews, founder of Xchanging, the business support company which sponsored the lecture. "What is really impactful is to learn firsthand from the people who are at the forefront of their industries and those who have directly engaged with culture."

Co-run by Cambridge University's department of German, future speakers are expected to include the footballers Jürgen Klinsmann and Franz Beckenbauer, as well as the country's former chancellor. Gerhard Schröder.

E-mail to a friend