PARIS, France (CNN) -- The French government is injecting €10.5 billion ($13.9 billion) into the country's six largest banks to help stabilize the economy and ensure the banks have adequate lines of credit.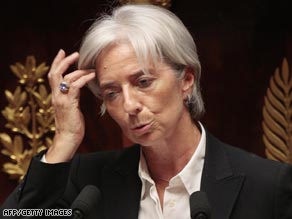 Finance Minister Christine Lagarde said the banks must adopt ethics rules.
The French Finance Ministry announced the move Monday, saying it is part of the government's efforts to shore up the economy amid the global financial crisis.
The six banks due to receive the money are Societe Generale, BNP Paribas, Banques Populaires, Caisses d'epargne, Credit Agricole, and Credit Mutuel. Credit Agricole and BNP Paribas will receive the largest amounts -- €3 billion and €2.55 billion ($4 billion and $3.4 billion), respectively.
"This investment will permit the banks to increase their credit so they can thoroughly support credit to households, professionals, and businesses," the finance ministry said in a statement.
Finance Minister Christine Lagarde said the banks also need to adopt ethics rules to oversee executive pay and bonuses.
Her announcement came as the top three executives at Caisse d'Epargne resigned under pressure from the government after the bank lost €600 million trading derivatives amid the worldwide stock market collapse earlier this month.
Last week, France announced that it would set aside €360 billion ($483.4 billion) to help the economy, including €40 billion ($53 billion) to recapitalize its banks. The money announced Monday is part of that funding.
Other European countries have announced similar plans for banks. Germany adopted a €500 billion ($670.7 billion) stabilization package aimed at banks in its country, and Switzerland is investing 6 billion Swiss francs ($5.3 billion) into Swiss banking giant UBS.
Britain is pumping £37 billion ($63 billion) into three UK banks.
E-mail to a friend