By Peter Walker
for CNN





LONDON, England (CNN) -- Research is a major part of life for mainstream universities, with the ultimate accolade for any academic institution coming when one of its faculty is handed a Nobel prize, the latest winners of which were announced this month.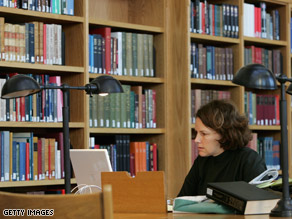 Hit the books and the computer -- it will help your school in the end
But what of business schools? Are they a different case, where professors should be focusing more on the nuts and bolts of teaching and keeping in touch with the commercial world, rather than locking themselves away in academic ivory towers?
A major emphasis on research in business schools is a relatively new thing, coming only in the last few decades, and still some dissidents doubt whether papers published in learned journals do much good beyond buffering the author's ego.
But now, the most complete study of the connection between a business school's output of research and the overall standing of its MBA program has come up with a seemingly unequivocal answer: research is good.
In fact, the authors' message for faculty members poised uncertainly over their computers, unsure whether to begin a project, is even simpler -- not only will papers boost schools' reputations, but a few years down the line they will even lead to an increase in their students' post-MBA salaries.
Two professors of marketing, Debanjan Mitra from Florida University's Warrington business school and Peter N. Golder, at New York University's Stern school, examined the short and long-term effects of research spanning 18 years at 57 US business schools.
Why conduct the study? They explain: "A faculty member's time is a scarce resource. Thus, too much time devoted to research will detract from the time he or she can devote to educating students. In addition, the skills required to be an effective researcher may be different from the skills required to be an effective teacher."
Their paper in the Journal of Marketing -- "Does academic research help or hurt MBA programs?" -- examines a number of factors, including the perception of the schools among other business school academics and recruiters, data culled from annual studies by the US News and World Report publication.
They also sought to measure schools' success by factoring in their acceptance rate (meaning how hard it is for would-be MBA students to gain acceptance) and also graduates' eventual starting salaries, adjusted to take into account their pre-entry academic test scores.
This mass of data was then compared against schools' output of research papers, using figures compiled annually at the University of Texas at Dallas.
The 18-page paper uses a series of complex-looking equations to crunch the numbers, but the eventual findings are perhaps surprisingly clear.
Fact Box
FT MBA Rankings
1. Wharton, U.S.
2. London Business School, UK
3. Columbia, U.S.
4. Stanford GSB, U.S.
5. Harvard, U.S.
6. Insead, France/Singapore
7. MIT: Sloan, U.S.
8. IE Business School, Spain
9. University of Chicago GSB, U.S.
10. University of Cambridge: Judge, UK
Source: Financial Times 2008

Since 1989, the authors conclude, there has been a direct correlation between the amount of academic research produced by a school and the performance of its MBA program in terms of academics' impressions, recruiters' rankings and the acceptance rate.

"We find a significant short-term effect of academic research on academics' perceptions," the study says, something the authors note is "not surprising" given that faculty members are the most likely to know about papers written by their peers.

It takes longer for research to change recruiters' views and acceptance rates, but this nonetheless happens, albeit to a slightly less significant degree.

The overall effect can be significant -- just three single-author papers a year are enough on average for an MBA program to move up one place in the overall rankings and for the rate at which it accepts applicants to drop by 1%.

When graduate salaries are taken into account the effect can be equally dramatic. Just one new paper a year can boost average post-MBA wages by $250, more if your school is already a well-known name.

They conclude: "We believe that these results are highly important. They demonstrate the positive impact of academic research on several constituents of business schools outside their own faculty members."

E-mail to a friend