(CNN) -- The Organization of Petroleum Exporting Countries said Friday it will cut oil output by 1.5 million barrels a day to halt a collapse in prices.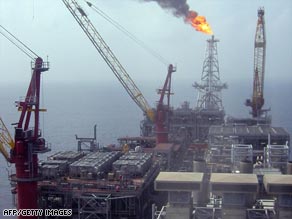 The demand for oil is expected to keep falling in the coming months as growth slows.
The 13-member cartel made the decision at an emergency meeting in Vienna, Austria.
Crude oil prices have dropped 55 percent since hitting a record $147.27 a barrel after months of steady increases were halted as the economic downturn drains energy demands.
The decision failed to immediately stem the price slide with crude dropping a further $4 after the decision.
"The prices at this time, being affected by the financial crisis, (are) very low," OPEC Secretary-General Abdalla Salem El-Badri said. "We have to bring the prices up."
OPEC ministers decided to cut production by 1.5 million barrels a day because that is the amount of oversupply in the market, he said. The cartel's current production ceiling is 28.8 million barrels a day.
In announcing the cut, OPEC President Chakib Khelil said member countries had no choice but to slash production.
"What choice do they have -- see the oil price go down to the lower levels?"
OPEC called the emergency meeting out of concern that deteriorating economic conditions around the world would spread to the oil market. The meeting was moved up from its scheduled November 18 date.
E-mail to a friend