(CNN) -- The credit crunch began small but its ripples sent shockwaves around the world.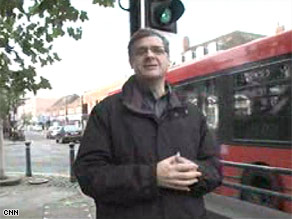 CNN's Jim Boulden on his local High Street in southwest London.
Now many countries are facing recession, and some fear a depression.
Few places remain unaffected by the economic pain gripping the globe.
But it's on main street that the crunch is hitting home.
In Johannesburg, the rand currency is falling causing shop prices to soar.
In Washington, D.C., tailors and students are feeling the pinch while a charity feeding the homeless is seeing costs rise.
In London, a dry cleaner says he is doing ok because people are cleaning suits rather than buying new ones.
And in central Hong Kong, the music is free but drinkers are worried.
E-mail to a friend