LONDON, England (CNN) -- The Bank of England (BoE) and European Central Bank (ECB) have slashed interest rates in a bid to ward off a deep recession.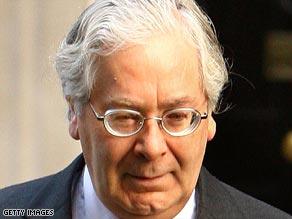 Bank of England Governor Mervyn King had resisted interest rates cuts prior to the financial meltdown.
The UK's central bank voted to cut Britain's base interest rate by a record 1.5 percentage points to 3 percent, while the ECB followed with a half a point cut to 3.25 percent.
In a statement released after its Monetary Policy Committee passed the cut, the BoE said the past two months had seen a substantial downward shift in the prospects for inflation in the United Kingdom.
"There has been a very marked deterioration in the outlook for economic activity at home and abroad. Moreover, commodity prices have fallen sharply," it said.
The Bank said its hand had been forced by the global banking meltdown and lack of credit available to households and businesses.
It also cited a sharp fall in the UK's economic output.
"Business surveys and reports by the Bank's regional agents point to continued severe contraction in the near term. Consumer spending has faltered in the face of a squeeze on household budgets and tighter credit. Residential investment has fallen sharply and the prospects for business investment have weakened. Economic conditions have also deteriorated in the UK's main export markets."
It predicted inflation would soon drop back sharply from above 5 percent following the decline in prices for commodities like oil, which reached record levels earlier this year.
The BoE and ECB's decisions follow other rate cuts around the world.
The U.S. Federal Reserve and central banks in China and Japan cut rates last week. Australia's Reserve Bank this week cut interest rates by 0.75 percentage points, and South Korea's central bank was expected to cut rates Friday.
E-mail to a friend