LONDON, England (CNN) -- World stock markets suffered more heavy losses Thursday as economic data indicated a severe slowdown was unavoidable.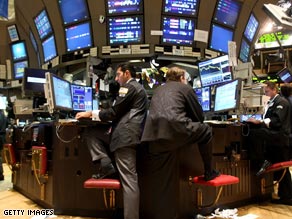 The Dow Jones has reacted badly to data showing an increase in unemployment and drop in retail sales.
London, Paris and Frankfurt were off more between 5.7 and 7 percent at the close despite the Bank of England and European Central Bank cut interest rates by 1.5 and 0.5 percent respectively.
In the U.S. the Dow Jones industrial average, the Standard & Poor's 500 index and the Nasdaq composite all declined between 4 and 5 according to early tallies at the close of trading after poor retail and job figures.
Thomson Reuters estimated the U.S.'s October sales could be the worst monthly statistics in 8 years. Meanwhile, the number of Americans filing new claims for unemployment last week -- 481,000 -- topped forecasts predicting 476,000.
It's just an endless flow of bad news and no one wants to buy," said Dave Rovelli, managing director of U.S. equity trading at Canaccord Adams.
October retail sales from U.S. chain stores were mostly abysmal, although some discounters like Wal-Mart Stores escaped the fray. The housing market collapse, credit crunch and strained labor market have all taken their toll on consumers spending.
Earlier, most Asian and Pacific markets were also sharply lower on Thursday.
The Nikkei in Tokyo closed down 6.5 percent, while Australia's All Ordinaries slipped more than 4 percent.
In Seoul, the KOP finished the day 7.6 percent lower. The Taiwan Weighted index fell 5.7 percent. Hong Kong's Hang Seng closed down 7.1 percent.
The losses were more modest in Singapore, where the Straits Times Index was down more than 4 percent and the BSE SENSEX in Mumbai fell 4.2 percent by midday.
The selloff followed Wednesday's rally across Asia as markets returned to economic realities following historic elections in the United States that saw Barack Obama elected as the first African-American U.S. president.
On Wall Street Wednesday, the Dow Jones industrials fell 486 points, or 5 percent. Similar percentage losses were posted by the tech-heavy NASDAQ and broad-based Standard and Poor's 500.
E-mail to a friend