(CNN) -- The 15 countries that share the single European currency are in recession for the first time in the 10-year history of the eurozone, according to initial estimates the European Union said Friday.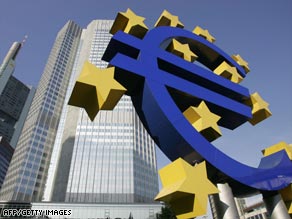 A giant euro symbol, the currency of the EU, stands in front of the European Central Bank.
According to the latest EU figures, GDP fell 0.2% in the third quarter, the second successive quarter of negative growth.
The news comes a day after Germany -- Europe's biggest economy -- announced it had dropped into recession territory.
With the UK expected to follow suit, France is the only one of Europe's biggest three economies to expand in the third quarter, with figures showing it had grown by 0.1 percent between June and September. The UK is not part of the eurozone.
There was further economic misery in the U.S. as well Friday as beleagurered mortgage lender Freddie Mac reported a $25 billion third-quarter loss that will force it to start tapping into the $100 billion in taxpayer money set aside for its bailout by the U.S. Treasury.
The Treasury took control of Freddie Mac and Fannie Mae, the U.S.'s other mortgage finance giant, in September when it became clear that rising losses on bad mortgages would cause them to run out of capital.
California-based software and computer networking giant Sun Microsystems also became the latest company to slash its workforce, announcing that it will cut 6,000 jobs, or 18 percent of staff, as part of cost-cutting measures.
Meanwhile U.S. retail figures for October suffered the worst monthly drop on record -- down 2.8 percent --and the fourth consecutive decline in monthly retail sales, according to the Commerce Department.
"These numbers reinforce the fact that we are in a recession," Michael Niemira, chief retail economist with the International Council of Shopping Centers (ICSC), told CNNMoney.
Elsewhere, there was more bad news in the British banking sector, as Royal Bank of Scotland announced plans to slash around 3,000 jobs worldwide over the next several weeks to reduce costs, according to British media reports.

Watch more about the global economic crisis »
The spreading recession is likely to top the agenda this weekend when the G20 summit takes place in Washington D.C, bringing together leaders from 20 of the world's biggest developed and developing economies. Other items for discussion include possible coordinated tax cuts or spending increases around the world.

Watch more about Germany entering a recession »
On Wall Street U.S. markets slumped Friday, following wild swings in the previous session that saw the Dow Jones slip to within 81 points of its 5-1/2-year low before surging late to finish up more than 6.7 percent, or more than 550 points.
According to early closing tallies, the Dow Jones industrial average fell 338 points, or 3.8 percent. The Standard & Poor's 500 index fell 4.1 percent and the Nasdaq composite shed 5 percent.
In Europe, major markets in London, Paris and Frankfurt slipped back a little in late afternoon trading but remained in positive territory.
Asian and Pacific markets posted modest gains with Japan's Nikkei index closed up 2.7 percent, Hong Kong's Hang Seng index was was up 2.43 percent and Australia's All Ordinaries index rose 1.46 percent by close of play.
Stocks tumbled each day this week and through early Thursday afternoon. But the sell-off left the major gauges at levels that many market pros think could represent a bear market bottom, at least in the near term.
"As soon as the Dow fell below 8,000, we saw a rush of buying," said Matt King, chief investment adviser at Bell Investment Advisers.
It was the second time the market retested those lows, which were first hit around October 10. The major gauges slumped to around those levels at the end of October and again in mid-November.
"It was very positive," King said. "It seems like we have put a bottom in place."
However, he said there was a possibility that the market could rally for a few months and then retest again. If so, that would be similar to what happened when the last bear market bottomed in 2002 and 2003.
In further sign that a global recession is starting to take hold, China announced that its powerhouse manufacturing sector slowed in October.
China's industrial output grew 8.2 percent in October compared to year-ago levels -- a decline in growth of 3.2 percent from September, the National Bureau of Statistics reported.
E-mail to a friend

All About Financial Markets • Asia-Pacific Markets • Wall Street