From CNN's Alessio Vinci and Hada Messia
(CNN) -- The Italian government has given its seal of approval for the takeover of Alitalia assets by a group of investors.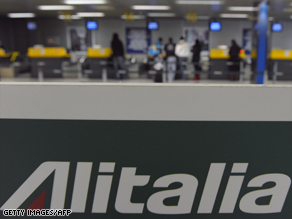 Alitalia is looking for a new start.
Alitalia special commissioner Augusto Fantozzi gave the green light for the sale of the ailing national air carrier, the airline's press office said Wednesday.
The announcement followed Economic Development Minister Claudio Antonio Scajola's approval of the sale to Compagnia Aerea Italiana (CAI), under the condition that the price be at least 1.052 million euros.
"The commissioner Fantozzi can now proceed to the cession of the assets within the first of December," Scajola said in a statement posted on the ministry's Web site.
"CAI can now proceed in choosing a foreign partner that will strengthen the presence of Alitalia in the global market."
The amount CAI intends to offer for the airline's assets has not been released.
The sale to the group of Italian businessmen had been expected, as it was the sole remaining bidder.
The main unions representing most of the airline's pilots and flight attendants have opposed the impending CAI deal and the contracts being offered. As of Wednesday evening, they had not commented on Fantozzi's approval.
The protesting employees have recently taken up a "work-to-rule" action -- in essence, performing only the bare minimum of work required by their contracts in an attempt to slow airline activity and pressure management to pay attention to their grievances.
The move has caused hundreds of flight delays and cancellations.
E-mail to a friend