By CNN's Peter Wilkinson
(CNN) -- U.S. carmakers are battling to stay in business amid plummeting sales and huge financial challenges brought on by the credit crisis.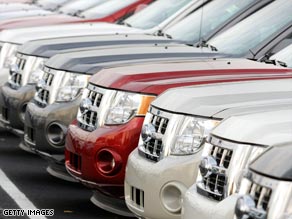 The SUV has fallen out of favor with U.S. carbuyers as fuel costs rocket.
The Big Three of Detroit -- General Motors, Ford and Chrysler -- say they are running out of cash and may not survive beyond 2009 unless they receive a bailout of $25 billion from the $700 billion already approved for Wall Street. GM is even pursuing merger talks with Chrysler.
The U.S. carmakers are far from being alone. Several other manufacturers around the world are struggling but there is arguably more riding on the Big Three's survival.
For a start, nothing is more closely identified with the American Dream than the motor car. For over a century, from the mass-produced Model T Ford to the muscle-bound Chevrolet Corvette to the all-conquering Hummer, U.S. designs have inspired respect and imitators across the globe. Tell us what you think
And the auto industry contributes a sizeable chunk -- about 2 percent -- to the U.S. economy, meaning that if one or more of the carmakers goes bust, millions could be thrown out of work and the U.S. federal government would lose tax revenues of more than $150 billion over three years. Read why the bailout is so important
So how has the industry got into this mess?
The main problem, of course, is plummeting sales which this month are expected to be at their lowest level in 25 years, industry experts predict. According to J.D. Power, automakers will sell 10.8 million vehicles at retail (fleet sales will add another 2.8 million). That's a drop of more than 15 percent from 2007.
"Nobody is coming into the showrooms," admits a senior official from Volkswagen of America.
Falling sales, however, are just one part of the many difficulties that have engulfed American carmakers. Critics say economic mismanagement and uncompetitive, fuel-thirsty designs are the real causes of the crisis.
GM, Ford and Chrysler, are certainly facing monumental financial challenges that have left them with poor credit ratings, making it prohibitively expensive to raise cash to develop new models to compete with greener designs from Japan that appeal to today's motorists.

Watch how Germany's car industry is coping »
GM risks running out of money later this year or early in 2009 without a bailout. The company burned through $6.9 billion in the third quarter, leaving it with just $16 billion at the end of September. But it needs $11 billion to $14 billion to continue normal operations.
Ford and Chrysler have more cash relative to their needs, mostly from money they borrowed prior to the current credit crunch. But each of those automakers could also run out of cash during 2009 without federal assistance.
"These are truly unimaginable times for our industry," said CEO Robert Nardelli in the statement. "We continue to be in the most difficult economic period most of us can remember."
U.S. President-elect Barack Obama has pledged not to allow America's iconic auto industry to collapse but the debate in Congress over whether to approve the loans has divided opinions.
Supporters of the bailout argue that if the Big Three can survive next year, when a recession is forecast to hit consumers hard, they will be in position to be competitive in the long term.
That is because billions of dollars in annual savings on pensions and healthcare won in a 2007 labor deal with powerful trades unions kick in that year. Car sales are also projected to pick up again by 2010 and that plant closings between now and then will bring the Big Three's capacity in line with this demand.
Dave Cole, chairman of the Center for Automotive Research, also offers some grounds for optimism. Once the downturn passes, he told TIME magazine, there will be a lot of pent-up demand for new more fuel-efficient vehicles. GM is feverishly working on the Chevrolet Volt, an electric car that could go a long way towards changing the way Americans think about such cars.
Even smaller Chrysler is promising to deliver seven new models by 2010. That's if it can get there. J.P. Morgan predicts sales levels will sink again next year and recover only marginally in 2010. "The trick is making it through the current period," Cole says.
But around the world there is suspicion that the U.S. bailout for carmakers could prove to be protectionist and distort the global car market.
UK Prime Minister Gordon Brown has made a thinly veiled criticism of the planned bailout measure. "I do think it is really important that we send out a signal today that protectionism would be the road to ruin," Brown said, in a speech to the Council of Foreign Relations in New York on November 14.
The EU also said it would act against the U.S. at the World Trade Organization if the European Commission ruled the bailout as illegal under international rules.
Fiat has warned that aid to U.S. automakers "would change the balance in Europe. It is a question we are following with attention," according to its CEO Sergio Marchionne.
And in the United States, just as the economic crisis has sparked derision for the bankers, there is little sympathy for car industry bosses.

Watch iReporters on the bailout »
The CEOs of the Big Three hardly helped their cause on Wednesday when they flew private jets to Washington to request taxpayer bailout money.
"There is a delicious irony in seeing private luxury jets flying into Washington, D.C., and people coming off of them with tin cups in their hand, saying that they're going to be trimming down and streamlining their businesses," Gary Ackerman, a Democratic Representative from New York, told the stony-faced executives.
Both Democrats and Republicans say automakers have had years to cut their costs and introduce more competitive models and have failed. A better option, they argue, is bankruptcy, enabling the Big Three to restructure and ultimately emerge as leaner and viable businesses.
Outside Congress there are major doubts about the bailout. Filmmaker Michael Moore became an international figure in 1989 for his film, "Roger and Me," which centered on the declining auto industry in his hometown of Flint, Michigan and the ripple effect on the town's residents.

Watch how Moore feels on the bailout »
He told CNN's Larry King that the rescue must go ahead but with major strings attached. "President-Elect Obama has to say to them, yes, we're going to use this money to save these jobs, but we're not going to build these gas-guzzling, unsafe vehicles any longer."
E-mail to a friend