By CNN's Kyung Lah
TOKYO, Japan (CNN) -- At a time when U.S. automakers are telling taxpayers and lawmakers that they are on the brink of financial collapse, Japan's biggest automaker is still investing in its business.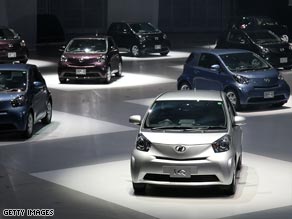 Toyota pins hopes on economical IQ small car.
Toyota's top brass pledges that this year more money will pour into research and development for the cars of the future. Toyota isn't just trying to survive this economic downturn; it's planning its success well into the future.
You have to wonder "how" when you look at the global picture. No automaker can escape the economic slowdown. The world's carmakers are slashing budgets and production, trying to manage the credit crunch and slowing consumer demand. But Toyota, Honda, and Nissan are all better cushioned than their American competitors.
Koji Endo, Credit Suisse auto industry analyst who has been studying the global auto market for more than 20 years, says the reason is quite simple. The American Big 3 "never changed, basically. That's why they're facing this tough time.
"They just kept on keeping their business model: in other words, relying on SUV's and pick up trucks, never looking at small cars because profitability from small cars tends to be very low." Tell us what you think
You only need to step into Toyota's car theme park called the "Megaweb" and you'll see evidence of the car maker's decades-long focus on eco-friendly, small cars. Here, hybrids have been so ingrained into Toyota's business plan that there's an entire section of the Megaweb called the "Hybrid Wonderland."
The idea to push forward into more fuel efficient vehicles extends into the non-hybrid models as well. Toyota's latest offering to the Japanese market, with an eye to Europe and the U.S., is the IQ. Resembling the Mercedes-Benz Smart Car, the IQ goes a step further into the family car market, by offering just-shy-of-hybrid fuel economy while not compromising the feel of a true car.
Toyota spokesman Paul Nolasco says the IQ "represents our company's thinking, what would be the ideal car of the future."
Nolasco says Toyota's ability to focus on fuel efficiency and imagine the car of the future, like a hydrogen or clean diesel car, begins with Toyota's core thinking. "It really starts with a way of thinking. Looking at limited resources in the future."
Toyota's financial flexibility may begin with its core ideals and management, but it also doesn't hurt that Japanese automakers are unburdened by the legacy and pension costs that face Detroit's Big 3.
In the U.S., the three U.S. automakers generally pay 30 percent more per hour in wages, pension and health care costs. Toyota, Honda and Nissan, with non-union workers, make an average of around $48 per hour.
But analyst Koji Endo says union contracts and health care costs alone don't account for the different financial pictures facing the two countries' auto companies. Endo points to a cycle of U.S. management focusing on profit instead of company growth in the future.
"After two to three years of a weak period, the U.S. market starts to rise again. People start buying SUV's and pick up trucks again and those Big 3 start making a lot more money from them than the smaller cars. As a result, the management at the Big 3 is happy sitting on this unchanged business model. That has been the case in the last 20 years." This time it could be different.
E-mail to a friend