LONDON, England (CNN) -- One was a theater, another, a church, and at varying times over the past century all have provided inspiration and refuge to both great literary minds and harried shoppers.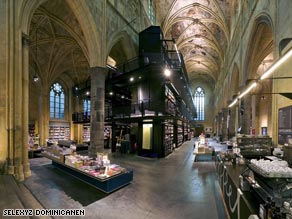 Architects transformed this 13th century church into a stunning bookshop, the Selexyz Dominicanen.
CNN has compiled a list of some of the world's oldest, most beautiful and most intriguing book stores.
We start in the Netherlands, where the cavernous proportions of a 13th century church have been turned into a stunning, modern book shop. The Selexyz Dominicanen in Maastricht opened in late 2006 after architects were set loose on the abandoned church, which in recent times had been used as nothing more than a storage lot for bikes. It's now crammed with three story high black steel bookcases that give customers a closer look at the detail on its painted ceiling.
Selexyz Dominicanen
Dominikanerkerkstraat 1
6211 cz Maastricht
The El Ateneo book shop started life in 1919 as a theater called "The Grand Splendid." In the 1920s, it was converted into a movie house and showed the first films ever recorded with sound. In 2000 it was once again transformed -- this time into a book store and music shop. Customers can settle into plush seats in an old theater box and admire the grandeur of the ornate carvings on the walls and lavish painted ceiling.
El Ateneo
1860 Ave. Santa Fe
Buenos Aires
In Paris, opposite Notre Dame, sits a bookshop that famed American novelist Henry Miller once described as the "Wonderland of Books." Over the past 50 years, Shakespeare & Company has provided both inspiration and accommodation for more than 30,000 writers. In exchange for a night's rest on one of six beds crammed between the towering shelves, they must work in the book shop and read one book a day.

CNN Business Traveller visits the book store in Paris »
Shakespeare & Company
37 Rue de la Bucherie
Paris
If you're looking for bestsellers you won't find them in City Lights in San Francisco. Poet Lawrence Ferlinghetti and Peter D. Martin have been pushing the boundaries since 1953 after founding the shop to sell paperback versions of popular titles. The shop became a beacon for the Beat Generation -- U.S. writers united in their rebellion against conservative, authoritarian views who came to prominence in the late 1950s. In 1957, Ferlinghetti famously took on the establishment and won after being put on trial on obscenity charges for publishing Allen Ginsberg's poem "Howl."
City Lights
261 Columbus Ave
San Francisco
Anyone for a used text book? When William and Gilbert Foyle failed their Civil Service exams they could have no idea that their setback could herald the start one of London's most loved book stores. The brothers set up Foyles in 1903 after being overwhelmed with offers to buy their old text books. The store moved to Charing Cross Road in 1906 where it remains in private hands with an expanded remit to sell all types of books including fiction, biographies and guides.
Foyles
113-119 Charing Cross Road
London
The neo-gothic exterior of Livraria Lello in Porto offers a hint of the architectural excellence that lies within. Flanked by heavily decorated walls, an imposing red staircase curves up to a small coffee shop on the second floor where customers can order port or a cigar to accompany their coffee. The book store opened in 1906 and sells not only books in Portuguese, but also English and French.
Livraria Lello
Rua das Carmelitas, 144
Porto
And finally, it may be named after London's famous publishing strip, but Strand Books is one of New York's most established book stores. It was opened by Ben Bass in 1927 and more than 80 years later remains a family business. Fred Bass and his daughter Nancy employ more than 200 people to keep track and take care of some 2.5 million books. They buy thousands more to add to their shelves every day.
The Strand
828 Broadway
(at 12th St.)
New York
E-mail to a friend