(CNN) -- European Union leaders meeting in Brussels have approved a €200 billion ($267 billion) stimulus plan for the 27-nation bloc's battered economy.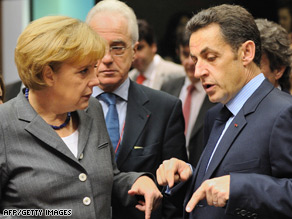 German Chancellor Angela Merkel talks with French President Nicolas Sarkozy at Friday's meeting.
Talks on the pact, which draws on existing national packages and provides support for sectors including construction and motors, had exposed differences between Britain and Germany.
But the sides softened their positions on the second day of the two-day summit.
The package agreed Friday represents 1.5 percent of the EU's total gross domestic product. It means member states will follow Britain's lead in cutting taxes and boosting public spending to combat recession.
Tensions between London and Berlin grew when German Finance Minister Peer Steinbruck last month criticized measures unveiled by the UK's Labour government as "crass Keynesianism."
Steffen Kampeter, of German Chancellor Angela Merkel's CDU party, added on Thursday the plans meant a "complete failure of Labour policy."
He added that Britain seemed to expect German help in reviving Britain's economy.
However UK Prime Minister Gordon Brown brushed off the criticism as "domestic (German) politics."
"Every single European country is signed up to this, they are utterly unanimous in their determination to fight the downturn in this way," Brown told reporters.
He added: "I'm not going to get into the domestic politics of any individual country, but whatever comments there have been, this is the answer."
Last month the Organization for Economic Cooperation and Development said the financial crisis will probably push the world's most industrialized countries into their worst recession since the early 1980s.
The Paris-based intergovernmental organization said economic output will likely shrink by 0.4 percent in 2009 for the 30 countries that comprise its membership, against the 1.4 percent growth prediction for 2008.
On November 14, the zone of 15 EU nations that share the euro as their currency officially entered recession, recording a 0.2 percent drop in economic output for two successive quarters.
EU leaders also on Friday agreed ambitious environmental targets. These require member states to cut CO2 emissions by 20 percent by 2020, get at least 20 percent of energy from renewable sources, and achieve an overall 20 percent cut in energy use.
On another front, the summit offered concessions to the Republic of Ireland to enable the country's government to re-run last June's failed referendum on the EU treaty in a bid to obtain a "yes" vote the second time around.
E-mail to a friend