(CNN) -- Most Asia and Pacific markets soared on Monday, riding higher on hopes of a bailout for America's troubled automakers.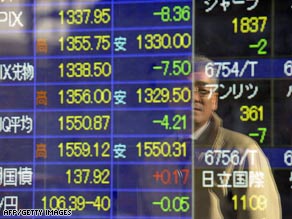 Asian and Pacific markets were buoyed by a possible bailout of U.S. automakers.
Stocks on Tokyo's Nikkei closed up more than 5 percent, gaining some 400 points. In Australia, the All Ordinaries index finished up 2.4 percent, while the KOSPI in Seoul gained 4.9 percent.
Markets in China were mixed. Hong Kong's Hang Seng pushed more than 3 percent higher. In Shanghai, the composite index was off more than half a percent.
Traders were buoyed by a possible bailout of U.S. automakers.
The Bush administration said Friday it might use taxpayer dollars set aside to bail out banks and Wall Street firms to keep them out of bankruptcy, but a formal announcement did not come over the weekend.
White House spokesperson Tony Fratto said Sunday the administration will "be focused on trying to get the policy right while considering the best interests of the taxpayer and our economy, and we'll take the time we have available to do that right."
Don't Miss
However, the administration's apparent willingness to use money from the bank bailout fund reverses its previous position on how to help the auto industry, and effectively revives a bailout proposal killed by senators of the president's own party late Thursday night.
That plan had the support of congressional Democrats and the White House, but would have used a different source of funds to provide $14 billion in federal loans.

Watch details on the White House bail-out initiative »
President Bush, speaking with reporters en route to Afghanistan late Sunday, said "these are serious economic times" that can't be ignored.
"Given the status of the financial system, an abrupt bankruptcy for the (automakers) could be devastating for the economy," Bush said.
A move to loan money to the industry could provide an 11th-hour short-term lifeline to General Motors and Chrysler, which have warned they are within weeks of running out of the cash they need to continue to operate. The prospect of a major bankruptcy by one of Detroit's Big Three has raised global concerns about the U.S. economy and the auto sector in particular.
"People have been fearing that we could see ... global ramifications on the car-making industry worldwide," CNN's Eunice Yoon reported. "There had been a big fear that without a bailout millions of people in the United States could be put out of work," especially those working for the automakers or in auto-related industries.

Watch how the U.S. automakers crisis could affect Asia »
The market positive sentiments from Asia were spilling over into Wall Street futures trading. U.S. markets are expected to open in positive territory on Monday morning.
Wall Street posted modest gains on Friday, with the Dow Jones Industrials picking up three-quarters of a percent. The Standard and Poor's 500 showed similar gains, while the NASDAQ composite added more than 2 percent.
European markets were down across the board at the end of last week. The continent's major indices -- London, Paris and Frankfurt -- were all down more than 2 percent on Friday.
E-mail to a friend