LONDON, England (CNN) -- Some of the biggest names in global finance say they have lost hundreds of millions of dollars in an alleged $50 billion "pyramid scheme" that led to the arrest of a New York financier last week.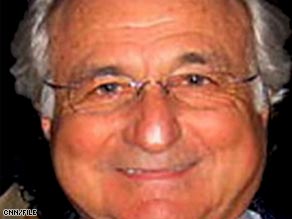 Bernard Madoff was arrested Thursday on a single securities fraud charge.
HSBC, one of the world's largest banking groups, could lose $1 billion, it announced Monday, adding to a litany of expected losses across some of Europe's leading financial houses.
The Royal Bank of Scotland told CNN its hedge funds had exposure of up to £400 million ($600 million) to funds managed by securities broker Bernard Madoff.
In France, BNP Paribas said Sunday its maximum potential loss was about €350 million euros ($468 million).
And in Spain, Banco Santander said it had a direct exposure of €17 million while clients of its hedge funds had €2.33 billion at risk in Madoff's firm. The country's second-largest bank, BBVA, said it could lose up to €300 million.
Japan's Nomura on Monday said it had ¥27.6 billion ($303 million) of exposure, but that the impact on its capital would be limited.
BGC Partners analyst David Buik told CNN the fallout from Madoff's arrest was sending shockwaves through the markets.

Watch Buik describe suspicious practices »
"It is extraordinary the broad section of people who have admitted some involvement," he said. "There is a real trail getting back to the basics of these deals -- but all speculative at the moment."
Madoff, a former chairman of the Nasdaq exchange market, was arrested Thursday on a single securities fraud charge for operating a $50 billion Ponzi scheme from his investment advisory business.
A federal court in Manhattan Friday issued a temporary order freezing Madoff's assets and appointing a receiver over him and his firm, his global securities broker company, Bernard L. Madoff Investment Securities (BMIS).
A Ponzi -- similar to a pyramid scheme -- is an investment fraud in which high profits are promised to investors from fictitious sources. Early investors are paid off with funds raised from later ones.

Watch analysis of how the alleged scheme succeeded »
U.S. District Court Judge Louis Stanton said the order appeared necessary to prevent Madoff or an agent from moving funds out of the court's jurisdiction and to "preserve the status quo" for whatever may come from future proceedings.
Madoff, 70, made an initial court appearance Thursday and was released on a $10 million bond.
According to the complaint filed with the U.S. District Court of Southern New York, two senior employees of BMIS told investigators that Madoff ran the advisory business from a separate floor of the securities firm offices.
Don't Miss
One of the senior employees said that Madoff kept the advisory business' financial records under lock and key and was "cryptic" about its business.
A document filed by Madoff with the Securities and Exchange Commission early this year said the advisory business served between 11 and 25 clients and had about $17.1 billion in assets, the complaint said.
But on Wednesday, the complaint said, Madoff told senior employees that the advisory business was a fraud, that he was "finished," had "absolutely nothing," that "it's all just one big lie" and that it was "basically, a giant Ponzi scheme."
Madoff said the business had lost about $50 billion and that he planned to turn himself in to authorities in a week. But, the complaint said, he told the employees he wanted to distribute the $200 million to $300 million he had left to certain selected employees, family and friends.
Madoff faces a maximum penalty of 20 years in prison and a $5 million fine if he is convicted.
Madoff's attorney, Daniel J. Horwitz, said Thursday, "Bernie Madoff is a long-standing leader in the financial services industry. He intends to fight to get through this unfortunate set of events."
Madoff founded his securities firm in 1960 and expanded to a worldwide client base. He served as Nasdaq's chairman in 1990, 1991 and 1993, according to Nasdaq Senior Vice President of Communications Bethany Sherman.
E-mail to a friend