(CNN) -- The U.S. Federal Reserve cut a key rate Tuesday to a range of between zero and 0.25 percent -- a cut of at least 0.75 percent.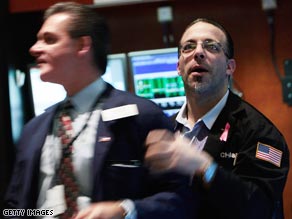 Professionals at the New York Stock Exchange react to the Fed announcement.
The central bank typically sets a specific target for its federal funds rate instead of a range.
With a target range of zero to 0.25 percent it is the lowest level on record, going back to 1954 -- and the latest attempt to stimulate the U.S. economy.
Before the announcement Tuesday afternoon in New York, the rate was 1 percent -- meaning the cut is at least 0.75 percent.
The federal funds rate is an overnight lending rate used as a benchmark to set rates for a variety of consumer loans, including adjustable rate mortgages, credit cards, home equity lines of credit and business loans.
This rate is the Fed's key tool for spurring or slowing slow the U.S. economy as it tries to balance its dual goals of economic growth and price stability. Lower rates are designed to encourage spending by making borrowing more affordable.
CNN Chief Business Correspondent Ali Velshi said the zero to 0.25 perecnt range gives the Fed some room to maneuver.

Watch Ali Velshi report on the rate's record-setting low »
In the minutes before the Fed's announcement the Dow Jones was up 1.25 percent, the Nasdaq composite 2.3 percent and the Standard & Poor's 500 index 1.6 percent .
By the close the Dow was up about 4.2 percent, according to early tallies, while the Nasdaq and the S&P were both up more than 5 percent.
The central bank was widely expected to cut the federal funds rate but not by so much.
In a written statement, the Fed said the U.S. economy, which has officially been in a recession for a year, is in danger of getting weaker, and the risk of inflation had decreased "appreciably."
At the close in Europe -- which was before the U.S. announcement -- London's FTSE 100 was up 0.7 percent, while the CAC 40 in Paris rose 2 percent and the DAX 30 in Frankfurt was 1.3 percent higher.
Asian markets were mixed, with Toyko's Nikkei and the All Ordinaries index in Australia both closing just over a percent lower. In Seoul, however, the KOSPI gained a third of a percent, while Hong Kong's Hang Seng picked up 0.6 percent.
The jitters in Asia came after Wall Street lost ground Monday, giving back Friday's modest gains. The Dow Jones lost about 65 points, or 0.75 percent, while Standard & Poor's 500 index fell 1.3 percent and the Nasdaq composite slid 2.1 percent.
Two other isses were impacting the market -- the Madoff financial scandal and continuing uncertainty about the future if the U.S. auto industry.
Money manager Madoff, a Wall Street figure and former Nasdaq chairman, was arrested last week on charges that he instigated a $50 billion pyramid scheme that hit companies worldwide.
And investors are still focusing on the troubled U.S. automakers after the Bush administration said last week that it might offer General Motors and Chrysler bridge loans from the $700 billion bailout fund Congress set aside for Wall Street. However, President Bush has so far declined to give a timeline for any action.
Dickson said: "Investors are expecting a rescue package to be announced, and most of that is baked into the market already."
President Bush said Tuesday he was "considering all options."
The president told CNN: "A disorganized bankruptcy could create enormous economic difficulties, further economic difficulties ... We're in a crisis now. We're in a huge recession, but I don't want to make it even worse. But on the other hand, I'm mindful of not putting good money after bad, so we're working through some options."
E-mail to a friend

All About Financial Markets • Wall Street • Asia-Pacific Markets