TOKYO, Japan (CNN) -- Honda has slashed its earnings forecast for 2008, citing "no prospect for recovery" in the midst of a global recession and slumping worldwide auto sales.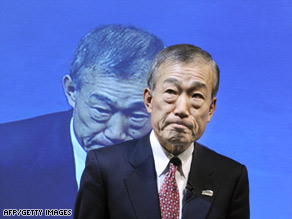 Fukui announces the company's all-new Accord model at a hotel in Tokyo on December 4.
Honda President and CEO Takeo Fukui told reporters on Wednesday that sales "declined rapidly" starting in the fall. The company also announced reduced forecasts for 2009 and matching production cuts "across all businesses."
"The situation is worsening by the day, and there is no prospect for recovery, is our understanding," Fukui told reporters.
Honda projects net income will tumble 69 percent for the year. Original revenue forecasts for 2008 were projected at 12.1 trillion yen ($130 billion) but have been reduced more than 13 percent to 10.4 trillion ($110 billion) -- eating into profits.
Honda said no jobs cuts were expected among the company's full-time workers, but there would be reductions among part-time and contract workers.
Fukui said management bonuses "will be reassessed based on business results of the current fiscal year," and directors will take a 10 percent monthly pay cut effective in January.
Honda, Japan's second-largest automaker, previously announced production cuts in Japan, North America and Europe. It also announced it was withdrawing from its sponsorship of Formula One racing teams.
Don't Miss
U.S. sales were off 32 percent in November and 5 percent for the first 11 months of the year, the company reported earlier this month.
Honda estimates it will sell 7 percent fewer automobiles worldwide in 2008, but motorcycle sales were expected to soar more than 10 percent.
The company's fiscal year ends March 31, 2009. Its troubles come amid problems in the U.S. auto industry.
A deal for $14 billion in federal loans for the U.S. industry died on a procedural vote on the Senate floor late Thursday, but the Bush administration has said it might offer General Motors and Chrysler bridge loans from the $700 billion bailout fund Congress set aside for Wall Street.
Bush said Tuesday he was "considering all options" in aiding the U.S. auto industry because doing nothing could lead to further economic decline.
"A disorganized bankruptcy could create enormous economic difficulties, further economic difficulties," he said. "I feel a sense of obligation to my successor to make sure there is a not a huge economic crisis. Look, we're in a crisis now. We're in a huge recession, but I don't want to make it even worse."
E-mail to a friend

All About Honda Motor Co. Ltd. • Cars and Car Design • Japan • Financial Markets