LONDON, England (CNN) -- British Airways and Qantas announced Thursday they have failed to reach agreement on a potential merger.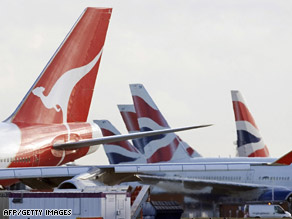 A Qantas aircraft is pictured beside British Airways aircraft at Heathrow airport, west of London, on December 4.
The airlines announced earlier this month they were holding talks on a merger. But Thursday, they said the "detailed discussions" were off.
"Despite the potential longer-term benefits for Qantas and BA, the airlines have not been able to come to an agreement over the key terms of the merger at this time," the airlines said in separate statements.
BA is still in merger talks with Spanish airline Iberia, and that would have made any deal with Qantas very complicated, CNN aviation correspondent Richard Quest said.
BA and Qantas have for years cooperated on the "Kangaroo Route" between Australia and Europe. That deal includes sharing revenues on UK-Australia routes.
BA formerly held an ownership stake in Qantas but does not currently.
The merger moves came amid troubled times for BA, which saw its pretax profits fall by 92 percent in the first half of this year, a loss it blamed on high oil prices and troubled financial markets.
Qantas also announced it was slashing its work force by 1,500 people worldwide, abandoning plans to hire 1,200 more as high fuel costs squeezed profits.
E-mail to a friend