(CNN) -- Japanese automaker Toyota warned Monday it will post its first operating loss in almost 60 years.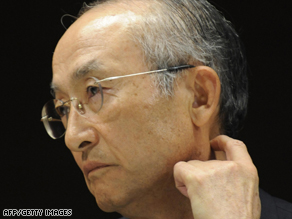 Toyota president Katsuaki Watanabe announces the company's forecast in Nagoya, central Japan.
A slump in sales and a surge in the value of the yen have wreaked havoc on its balance sheet, with the world's second biggest car maker revealing that its net revenues have dropped by 6.3 percent compared to a year ago.
In a statement, Toyota said it cut its group operating forecast to a loss of up to ¥150 billion ($1.7 billion) for the year to end-March, after shocking financial markets last month by slashing its group operating profit forecast by ¥1 trillion to ¥600 billion.
The car maker recorded an operating profit of ¥2.27 trillion last year.

Watch more about Toyota's losses »
This would be Toyota's first operating loss since 1950, Toyota spokesman Steve Curtis said. Despite the likely operating loss, Toyota expects to post a $557 million net profit for the fiscal year.
Automakers around the world are facing their toughest challenge in recent memory, caught in a sharp reversal of demand as the financial crisis deepens.
Last week, fellow Japanese car manufacturer Honda slashed its earnings forecast for 2008, citing "no prospect for recovery" in the midst of the global recession and slumping worldwide sales
And in the United States, the Bush administration agreed a $13 billion bailout for two of its ailing "big three" automakers -- GM and Chrysler.
Don't Miss
Japanese exports have been hit hard as the yen has been rising in value sending the country's trade deficit shooting up to $2.5 billion in November, according to the Japanese government. Exports fell 26 percent on a month-over-month basis.
Toyota's president Katsuaki Watanabe said he expected group sales to slump to 8.96 million vehicles for 2008, down four percent from a year earlier.
He said the company was freezing expansion plans, suspending executive bonuses and reviewing its dividend payout.
"The company is facing an unprecedented crisis where it cannot avoid posting an operating deficit in this term," Watanabe told a news conference.
"The markets are changing every week and even every day. Unfortunately we cannot forecast our business performance for the next year at this point," he said.
According to Britain's Financial Times newspaper, Toyota plans to reduce contract workers in Japan from 9,200 in the first quarter of this year to about 3,000 in the same period next year, a cut equivalent to 20 per cent of its production workforce in the country.
The company has temporarily shut much of its big-truck production in the U.S. and has said it would probably delay the opening of a plant in the state of Mississippi that was scheduled to start building Prius hybrids in 2010.
E-mail to a friend

All About Honda Motor Co. Ltd. • Cars and Car Design • Japan • Financial Markets • Toyota Motor Corporation