By CNN's Matthew Chance
MOSCOW, Russia (CNN) -- The era of cheap natural gas is coming to an end, Russian Prime Minister Vladimir Putin said Tuesday at a meeting in Moscow of the world's major gas-exporting countries.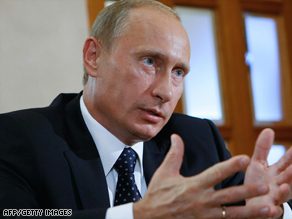 Vladimir Putin says Russia invests tens of billions of dollars in gas exploration.
That dire-sounding prediction is exactly what his audience wanted to hear.
Iran, Libya and Venezuela are among the countries attending the Gas Exporting Countries Forum, which observers say is fast emerging as an OPEC-style gas-producers' cartel. The gas group, commonly called GECF, would control the vast bulk of global supplies and could fix prices for the rest of the world.
And because of rising global production costs, Putin said, prices will only get higher.
"Costs, which are necessary to develop the [energy] sphere, are rising sharply," Putin said. "It means that despite the global financial crisis and price drop for energy resources, the era of cheap energy, including cheap gas, is coming to an end."
Russia, the world's biggest producer of natural gas, supplies Europe with more than 40 percent of its imports -- mainly via pipelines that cross the former Soviet republic of Ukraine.
The Moscow meeting comes amid growing concern that a contract dispute between Ukraine and Russia's state-controlled energy giant, Gazprom, could again disrupt gas supplies to Europe in the new year.
Putin called on GECF members to establish their headquarters in St. Petersburg and promised to grant the group diplomatic status. This was GECF's seventh ministerial meeting.
Russia is currently locked in a dispute with Ukraine over non-payment of debts. Russian gas giant, Gazprom, says Ukraine owes it $2 billion and has warned it may cut off gas supplies next month if the dispute remains unresolved.
E-mail to a friend

All About OAO Gazprom • OPEC