By Sheryl McCollum
Special to CNN





Editor's note: CNN is following four Bauder College students as they build their case files in the Chandra Levy and Natalee Holloway investigations. The following are logs each is keeping to document the cases. Sheryl McCollum is the director of the Cold Case Investigative Research Institute. The views expressed in this article are not necessarily those of CNN, its affiliates or the schools where the campus correspondents are based. Got a tip? E-mail the class at ColdCaseTips@USACops.com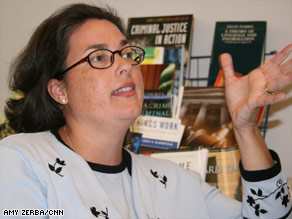 Log 6: This time it's personal
August 2008
Retired police Chief Eddie Moody, formerly of the Dekalb County Police Department, met with students to discuss managing a high profile case.
Understanding this aspect of police management can only come from doing it. Moody was in charge of a major case that received global media attention. His department had a case of a murdered sheriff-elect and a sitting sheriff that was the prime suspect in the assassination.
Moody was friends with the victim, Derwin Brown. Their families knew each other and his daughter even went to the prom with Brown's son. But when Brown, the sheriff-elect, was gunned down outside of his home, Chief Moody had to put his personal feelings aside and work the case.
Brown was killed December of 2000. Moody knew what needed to be done and set out to do just that. When he needed help he asked for it. When qualified help showed up, he took it. He was driven by the microscope he knew he would be under because of the magnitude of this case and the historical reference it holds.
Derwin Brown was only the second sheriff-elect to be murdered in U.S. history, according to Moody. This made the case prime for media attention.
This case became an international story once the suspect was known. This case was a murder-for-hire arranged by the incumbent sheriff, Sidney Dorsey. This case had all the makings of a TV movie.
After working a case like this, Moody understands political pressure and working with the media on high profile cases. He also had to walk the fine line of officer and victim advocate. He worked the case as a police officer but dealt with the family as a concerned advocate for their rights to make sure there was a conclusion that was just and right.
Don't Miss
Moody said when he worked the Brown assassination case, he made certain that every office involved felt they had a "buy in" that their job was as important as any other. This type of ownership, he said, makes a big difference in the team members' morale during the hours they spend working the case, as well as in its conclusion.
Moody explained to the students that it's not about who gets credit; it's about solving a crime. Law enforcement must work together as a team and leave the egos at home. This type of teamwork is admirable and we hope to emulate this type of teamwork.
When asked about utilizing "outside" help, Moody said "if it is good, qualified help, you don't care where it comes from." I could not agree more. I hope all of the students heard this loud and clear. There is no excuse to not take good, qualified help when it is offered.
Moody concluded his session by telling the students that by putting "all your minds together, you will know what happened to Chandra."
Log 5: Tag and bag
July-August 2008
Rusty Whiting is a leader among police divers. He made time for the students and experts to visit him at his office to show the students his equipment and discuss the types of searches that can be done in the ocean.
He also invited two of his friends -- Capt. George Baker and Capt. Hugh McCall, who are also professional police divers -- to join this mini-conference with our students.
Whiting has always enjoyed finding things underwater, and many different law enforcement agencies have called him to assist them in underwater recoveries. He has written several books and programs on diving for both the public safety and sport diving industries.
His experience in public safety has allowed him to share his expertise with many different agencies. In 1980, the director of civil defense for the state of Georgia recruited his services to train the first search-and-recovery team for the state. He still teaches and dives full time.
Obviously, this session focused on Natalee Holloway, but Whiting actually assisted the students with understanding the Levy body recovery location as well. He explained that the search for evidence, objects and related materials start at the last seen point (LSP).
The LSP in the Holloway case is unknown. The statements of numerous key people regarding where she was last seen have changed, and the eyewitnesses are zero. Therefore, if there is no LSP, the search is a gamble at best.
Whiting is a man who says precisely what he means. He told the students, "If it sounds stupid, it's stupid. Never place yourself or allow anyone else to place you in danger." He told students to remember that they are in charge of that dive or crime scene.
Whiting also said that one of the most important elements of police diving is to "stop, think and act." He said there is no reason to add a victim to any scene.
Most homicide detectives will tell you a killer will take the path of least resistance. Whiting stated most "good old boys will take the path they know." Therefore, the searches should include the areas familiar to the killer.
Underwater crime scenes are no different from a ground crime scene in one respect: tag and bag. If you find any object, place it into an evidence bag and tag it properly. The lab can tell you later if the item is relevant to the case. No one has to determine if items are relevant to the case while at the crime scene.
One major difference in an underwater crime scene is that the photos of evidence occur at different stages than on land. Evidence should be photographed as it comes up out of the water, on board, with measurement tools and then with numbers.
Whiting stated that divers must go down and touch the ground and feel with their hands for items and objects. "If your tank never leaves the top of the water, you have not searched that area."

Log 4: Thoughtprints
June-July 2008
We hosted a cutting-edge crime fighter, Dr. Andrew Hodges. His work has been hailed by numerous law enforcement agencies as new and innovative. He coined the term "thoughtprints." To better explain what this technique is, here is an explanation from Hodge's Web site:
"A thoughtprint is unconscious communication hidden within verbal or written communication. The unconscious mind is communicates constantly and typically hides its messages in verbal or written communication generated by the conscious mind. We don't always say what we mean. These unconscious communications are called thoughtprints."
The session with Hodges was a lesson in "right-brain thinking." Most of the experts in the room were admitted "left-brain" thinkers. Hodges was slow and methodical in his teaching.
Slowly, we all began to see where he was trying to take us. Some of the experts and students caught on immediately, while others took a little longer but did see the connection to the subconscious mind in the written words.
It was fascinating to have a written statement of a suspect and gradually see what they may have meant by their words. Dr. Hodges displayed numerous examples of written statements that contained hidden confessions and/or details about the crime only the offender would know. This was one of the most thought-provoking trainings I've been to in a long time.
Dr. Hodges traveled to Georgia at his own expense and willingly gave his information. The students receive no class credit or grades for their work and the experts have all agreed to participate in kind. We are all appreciative for his time and energy given to teaching us such a valuable technique.
Antonio Wilson and I may be guests on the Ed Norris Show out of Baltimore, Maryland. This will be a great experience for Antonio. Norris is the former police commissioner of the Baltimore Police Department. His work as police commissioner is still taught by the University of Virginia as a case study on effective leadership. We will keep you posted.
Opportunities like being on a radio show and CNN.com are just some of the unique experiences we have had as members of the CCIRI. We are grateful for each opportunity.
Holloway case update: At the end of June we had one of our experts visit Aruba. Assistant District Attorney Dawn Skinner has been an expert for the CCIRI for the past three years. She is also an instructor at Bauder College. She was able to travel to island and visit numerous points of interest regarding the Holloway case. She explained the layout of the points of interest in the case as well as the distance and travel time.
Levy case update: Ralph Daugherty, author of "Murder on a Horse Trail" and an expert on the Chandra Levy case met with the students. His book used statements from newspaper articles, TV broadcast and magazine coverage and allows the reader to become engaged with this crime through the words of people who were actively involved in the case. This unique way of laying out a book was captivating for the students. "This book doesn't solve Chandra's case, but it raises a lot of interesting questions that I hope will generate some new interviews and information from investigators, maybe for another writer to cover if we're lucky," he told the class.
Daugherty never met Chandra Levy, did not know her family and is not in law enforcement. He started a Web site and it progressed into a book. He gave the student researchers insight as to how to find just about anything online. He also told them to "look hard and long before they rule someone in or out" as a suspect.
He has been very generous with his time and talents. He has made his book "Murder on Horse Trail" available to the students for free online.
Log 3: Investigations hit the midpoint
June 2008
The midcase symposium went well, and helped focus our work. The suspectology is narrowing and students must have this completed by September.
We were very fortunate to have some nationally recognized experts join us for the "rule in, rule out" round table.
We had approximately 10 experts and more than 30 students in attendance. The experts walked the students through each of the theories and counseled them on what they needed next.
For example, both prosecution experts told students that the theories so far were intriguing and fact based, however, much more is needed before they would ever take a look at it.
Detective Vince Velázquez, of the Atlanta Police Department's cold case squad, told the students that a "scream" may not be that significant. "In a big city that must happen six or seven times a night," he said. Velázquez was most interested in the similar crimes aspect of the Chandra Levy case.
"You may never know why a killer does what he does -- but he does," he said. "We can try to get in their mind but we will never really understand the way they think because we are not them."
Velázquez explained to students that witnesses can often change or add to their stories once additional information comes to light. For example, with the scream, did the witness state in the 911 call that it was "bloodcurdling" or was that statement made after the news that Chandra went missing? This is a valid point.
Dr. Cindy Hatfield, a psychopathologist, explained to the students that a killer can kill once and then not kill again for a while. Sometimes a "killer will leave some victims alive and murder others," she said. She reminded the students that you cannot predict what a psychopath will do.
Hatfield has worked on cases with law enforcement agencies and will work with the students in a professional manner to give them insight into the criminality of the suspect. I have had the good fortune to work with her several times and she often provides insight that otherwise would have been overlooked.
Hatfield gave the students insight into the statements and writings of several key people in the Levy and Holloway cases. She has agreed to work individually with the researchers on numerous samples to help them link the statements with the facts and then start the process of finding gaps, deception and misleading information.
The students have read and watched hours of statements and video coverage. Hatfield will work with students to dissect quotes from each case and figure out what they may mean. The statements that people make tell a story by themselves. Why was a statement made? Who made it and when? This makes a difference to the validity of the facts.
One twist in the case came when psychic Reese Christian started working with the students based on her meditation on the Levy case. Christian started to describe a suspect that some of the students have pinpointed as a person of extreme interest.
Though a warrant can't be based on this information, the students found it exciting and interesting. The suspect that Christian pinpointed is the same suspect identified by the victimology completed by Faulkner University students. Christian is unaware of this report and has not seen it.
The student researchers at Bauder have not been privy to this report either. Their work must lead them and they cannot be influenced by other reports or findings. The results of the victimology will be shared with the students at the end of the research on the case.
Auburn University Montgomery will assist in the crime analysis of both cases. This work should be completed by October. The plan is for all three segments -- the victimology, crime analysis and suspectology -- to link up with the same suspect. Then we will formulate a cold case re-investigation plan and report.
The students work on each cold case for a period of one year. During that time they will develop their own case file. This file will contain numerous items such as photos, timelines, maps, sketches and/or profiles.
The CCIRI has approximately 80 student researchers working on these two cases for three colleges. All of the students work as volunteers. They receive no college credit or grades for their research. The four students that have been selected to log for CNN.com have different areas of interest and career goals and will share they experience throughout the research project.
The CCIRI has numerous specialists that also freely give their time and talents to train the students in their area of expertise.
Log 2: A scream in the night
May 2008
It's a little past 4 a.m. and I'm reminded of the scream coming from or near Chandra Levy's apartment at roughly the same time. It is hard for me to not find that event significant.
The neighbor hears a scream, the police are called, they respond, nothing is discovered -- should be the end of it. However, the next day Chandra went "missing."
Does the scream mean she was harmed much earlier than believed based on the activity on her computer? The activity means someone was on the computer, but it does not mean Chandra was on the computer? How did her body get to Rock Creek Park if she was hurt earlier?
We have all heard screams and not called the police because we were not sure if it was truly a cry for "help." The neighbors were so certain they stated the scream was "bloodcurdling" and made the 911 call.
This would indicate to me that the scream was indeed terrifying. That does not sound insignificant when the next day the tenant in that same apartment goes missing.
I spoke with Susan Levy at the first of this month to check in and to see how she was on the anniversary of the date that Chandra went missing. She is a strong woman with determination to see justice in this case. I feel for her each time we talk.
As a mother it is hard for me to imagine her daily need for answers or the consuming grief she lives with. This inconceivable grief was witnessed by the students, experts and faculty and serves to drive this investigation. We want to assist her and this family in their quest to see justice.
The victimology is now complete. The students at Faulkner University have sent their findings. These results will be cross checked with our suspectology in a few months. We have made a lot of headway with our "rule in, rule out" efforts. In the Levy case we are still considering three suspects. These suspects should be narrowed down to one in the next few months.
One of the most significant parts to the CCIRI is our experts. These specialists give their time and talents freely and without hesitation. It is an awesome sight to watch our students engage in a "bull session" with national experts. This opportunity to not just meet top professionals but to sit and talk and learn from them is the pinnacle to this project.
We had a minisession May 15 with prosecutor Shawn LaGrua, stalking expert Betsey Ramsey and psychic Reese Christian. We also had approximately seven lead student researchers in attendance. The 12 or so participants talked about the Levy case in depth for two hours.
The subject matter included stalking, forensic testing of soil, sexual assaults, computers and marital affairs. The professional guests were on hand to make certain the students stayed grounded in their method of research and did not venture into "made-for-TV theories."
LaGrua was the most vocal about the integrity of the project and the truth in the results. She is a career prosecutor with more than 17 years of experience. She approaches a cold case in one way and one way only: "Can I take this to trial?" If there is not enough evidence, the answer is no. Period.
Ramsey talked openly about the stalking issue -- again. If Chandra was stalked, there should be signs and clues to that fact.
Reese Christian is one of the newest expert members of the CCIRI. Numerous cold cases have sought the assistance of psychics, mediums and paranormal detectives. Christian was gracious enough to agree to assist in these two cases. She has worked with numerous law enforcement departments on cold cases and is well respected in her field. It is an important area of victimology and victim services. Our students are intrigued by the prospect of her abilities rendering results.
I also spoke with Sunny Tillman this week regarding safety issues during the graduation season. Tillman co-wrote the book "Loving Natalee" with Beth Holloway. Sunny and I want to have information available to students who may be traveling abroad for graduation trips. We hope to have this safety information soon. This is the work Holloway is doing since Natalee disappeared. Mrs. Levy has also started a nonprofit foundation since her daughter was victimized.
Log 1: Getting started
January - April 2008
Stalking expert Betsey Ramsey facilitated a training session in March for the Cold Case Investigative Research Institute student researchers on "stalkers and their targets."
This four-hour training provided students with an overview of the different types of stalkers, their victims and the other crimes they may commit. Ramsey is the author of "Stop the Stalker" and serves as an expert witness on these types of cases. The students enjoyed her forum and we plan on having her back at the Institute soon for some follow-up instruction.
Auburn University-Montgomery hosted a training session, also in March, on interviews and interrogations. This 24-hour training was facilitated by Bill Wagner. The students were invited to participate in the training.
Wagner was a member of the Metropolitan Police Department in Washington and has 37 years of experience as a criminal investigator and investigative supervisor. He has had extensive experience in all areas of criminal investigations with a specialty in violent crimes.
He is a nationally recognized trainer in criminal investigations, case management and defense proofing techniques for trial presentation. This was a wonderful experience for our students and an outstanding educational benefit.
This training gave CCIRI experts an opportunity to meet and strategize about the progress of the research. Approximately 10 experts from Georgia and Alabama were able to meet and map out the plan for the continued research.
This session proved to be beneficial in planning for the task needed to be completed by the end of April. Having numerous experts working together is an awe-inspiring experience. This experience is transferred to the students and their work.
To date, the students have completed the timelines on both cases and are actively connecting alibi, events, suspects and known activities on the charts. These charts will assist in the case linkage, profiling and geographical analysis of each crime.
The victimology, which is a description of the victim, will be prepared by Faulkner University and should be completed by the end of April. The victimology information will then be cross-examined with information gathered on possible suspect types.
E-mail to a friend