By Antonio Wilson
Special to CNN





Editor's note: CNN is following four Bauder College students as they build their case files in the Chandra Levy and Natalee Holloway investigations. The following is one of the logs that each is keeping to document their cases. Antonio Wilson is a member of the Cold Case Investigative Research Institute. The views expressed in this article are not necessarily those of CNN, its affiliates or the schools where the campus correspondents are based. Got a tip? E-mail the class at ColdCaseTips@USACops.com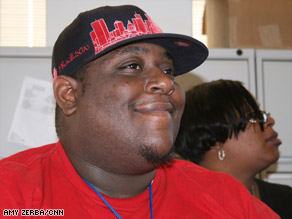 Log 6: I hear you!
August 2008
After talking to Retired DeKalb County Police Chief Eddie Moody, I realized just how many missteps occurred in the Levy case. I do not understand how you can overlook a major bone during a search for remains.
Moody told us the story about the murder of the sheriff-elect and used that event to break down how the Levy case could have been worked.
Moody put together a task force of all the "best" in whatever they needed. He did not pick friends. He put the best person on the job. That is how all cases should be handled.
The team, the team, the team that is where the power is. Moody made this clear.
Don't Miss
You have to have other people that can help you out. If there is a lead or a tip that needs to be followed up on and your detectives can not do it, you must have another team member that can go handle the investigation of the leads or tip.
I totally believe in this style of management. I have seen this work with us here at the Institute. If one of us can not find a piece of information, someone else will be able to.
It ain't about credit baby, it's about solving this case. Chief Moody, I heard you!
Log 5: Unexpected fame
July-August 2008
The last couple of weeks have been a true learning experience in life.
The high-profile status of these cases and our connection to them have generated interest in my fellow researchers and me. Radio stations have contacted me to come on their shows.
I wasn't expecting the so-called fame; I just wanted to do what I thought was right based on what I've been taught and how I felt. The attention came because of the cases and the type of injustice that the world has seen in both cases.
In the coming months, we will be wrapping up our findings and hoping the results will bring a sense of justice for these families. A lot of personal hours and school hours have gone into researching, training and working with experts trying to build a case. This is my passion, so I must stay focused. As always, my mind is with the mothers of Natalee Holloway and Chandra Levy.
The Washington Post series on the Levy case was great. They really had some good footage of the primary folks involved with the whole story. I liked the videos best. There is nothing better than seeing and hearing from people in their own words, mannerisms and gestures.
I hope we can compile a final report that will be as visually appealing as the Post series.
Classes have started back for our fall term, and most students see fall as a new start. But for us, it is late in the year and very intense. We must complete our suspectology by the first of September in order to conclude our case linkage from all three colleges.
I have work to do, so I will write more about that next month.
Log 4: They want to talk to me?
June-July 2008
I was contacted by a radio station wanting to interview me about the cases we have been working on. This caught me off guard because I truly didn't think people would ask me of all people to talk about the cases.
We have so many experts helping us work the case. I thought they would be the only ones interviewed by the media -- people with years in the field and veterans in criminal justice -- not me.
Our director, Sheryl McCollum, asked me: "Who would be better to discuses the heart of this research and the importance of the project?" I could not think of anyone else.
These cases have made me step up my game up at work.
Every day, I work with the public and sometimes wonder what's on people's minds and what they are capable of. Now when I patrol properties, I investigate any and every thing because you never know when you might have the opportunity to prevent or solve a crime.
Some people do not understand why I would work so hard on these cases for "free," but we are getting paid in many ways. I am a better student, worker and father.
I never imagined that this research would change the way I do my job, approach my school work and see my daughter.
I'll be doing the radio show and I'll be giving it my all. I hope someone can truly learn from the lives and deaths of Chandra Levy and Natalee Holloway.

Log 3: Graduation
June 2008
Graduation has come and gone, but my mind is still dealing with the facts of the Levy case.
I thought I only had one suspect and was ready to move forward until I talked with our experts and had my fellow researchers locking in on someone else.
I must look at their evidence and understand how it fits and ties in with the case and respect if their case is stronger than mine. Time will tell.
Looking at these two cases, I have spent a lot of time cataloging facts related to each crime. Were they crimes of opportunity or planned events? I believe I know the answer to that question. Why these victims? Who were they? Why them on these dates? This helped me see the suspect as a person. This has helped me see the action of the crimes as a clue. Our colleagues at Faulkner University will assist with this part of the research.
I will complete my suspectology by the end of next month. I will then meet with all the other student researchers in an effort to complete the needed facts and clues to pinpoint one suspect. We will then start on the crime analysis full time.
At the end of this month, we will have a session with expert Dr. Andrew Hodges. Hodges has information and insight on the Holloway case. He has developed groundbreaking skills regarding witness statements. We greatly anticipate his lecture.
Ms. McCollum talked with Chandra Levy's mother a few weeks ago. It always fires me up to hear about her words of encouragement. She and Ms. Holloway have inspired all of us. We think of them so often. I hope they know how much we care about them and their children.
Log 2: Breaking it down
May 2008
The team is still breaking down information about the case. I have been sitting down, throwing names and facts around about Chandra Levy's case. I've decided on possible suspects and thrown out those that are not suspects. I've been looking at the timeline hard the last couple of weeks. I have it memorized.
My main focus has been the police responding to the screams at the apartment complex. Another question that comes to mind is: How long was the body truly in the park? During our conference with some of the experts, we were able to bounce off many of our thoughts and opinions.
It is wonderful to have professionals on hand to talk it through and give us additional information. One of the ideas was to take scientific techniques from Natalee Holloway's case and apply them to the Chandra Levy case. We will call one of our experts in crime scene reconstruction and ask about the techniques that could be used.
I had never met a psychic before and did not know what to expect. After meeting with Ms. Reese Christian, I see her abilities as gifts. If she has been given these abilities to assist in this case, we should use her and be grateful for the help.
Prosecutor Shawn LaGrua let us know quickly that we did not have it all together. She was cool. She just came with her game and said, "You got nothing for me." We will meet with her again next week and hopefully have our story straight for her.
I will not be unprepared around these women. Betsy Ramsey, another expert, was quiet and slower to respond to our theories. She and I actually agreed on something: She feels like I do about the scream. That is straight when an expert that has written numerous books and taught Scotland Yard, NYPD and Royal Canadian Mounted Police officers agrees with you. Yea!
Now we will work on ruling out some of our suspects. We must link the suspects with the victim and the crime scene if possible. We also must make certain that we have pinpointed the means, motive and opportunity of each suspect. The case linkage is the next avenue we will complete.
May is a big month for the CCIRI team as far as the feelings go about each victim and their families. Both Chandra and Natalee went missing in May. We think about their mothers often and know this month will be trying. I wish them peace.
Log 1: Getting hooked on the cases
January-April 2008
I had wanted to join the CCIRI since seeing the display on the Tupac Shakur case at school. Once I started reading the case file on the Holloway and Levy cases, I was hooked. I truly believe I can help these families. I am intrigued by the challenge of where the pieces fit and who committed these crimes.
I have read "Murder on a Horse Trail," the book on the murder of Chandra Levy. Ralph Daugherty wrote this book and is planning to visit the college soon as one of our experts.
I found this book interesting because it was written by a man that got involved because he wants to find the truth. He is not a family member, not a police officer and not an investigator. He is a civilian who has taken it upon himself to compile information as to what happened to Chandra Levy.
I have been able to meet both of the mothers involved with these cases. They both have affected me greatly. I have a daughter, too. The thought of harm coming to her is unbearable for me. Both of these women came to us and talked so openly about their feelings and experiences.

Learn more about Antonio Wilson »
Mrs. Levy cried and shared stories about her child that made Chandra a real person to me. I know she wanted to go into criminal justice, that she liked to work out, she had good friends and a brother, her parents loved her, and she one day wanted a family of her own. This dream was taken from her. Her mother still does not know who killed her child.
I had the chance to meet Beth Holloway, mother of Natalee Holloway, when I was sent to the Auburn University-Montgomery launch of their portion of the research related to the Natalee Holloway and Chandra Levy cases. Ms. Holloway came in while we were eating lunch and greeted the students who would be investigating Natalee's disappearance.
She walked around the room, and as she approached the table, I was at a loss for words -- something that never happens to me. My fellow classmates asked questions, and I hung on every word she spoke as she opened up her feelings about the case to us. Her comments about what she has learned and hopes to be able to do as a result of her daughter's disappearance were very moving to me.
Ms. Holloway talked with us about traveling out of the country and the dangers that are out there. She wants us to be safe. She stated that you leave your American rights at the airport when visiting another country. She wants all students to understand the dangers that are outside of the U.S. These are lessons that she had to learn the hardest way of all -- losing her child.
Having met the mothers of both Natalee Holloway and Chandra Levy will help me to focus on what needs to be done to resolve these cases as much as possible.

I was also able to attend a death investigation training that was run by an FBI specialist. It was a four-part training that covered numerous aspects of a death investigation such as body placement, wounds, weapons at the scene, blood stains, staging and walk-through. I learned about entry and exit wounds and the other types of markings that weapons leave behind on the human body.
This training will be very useful as we discuss what happened to each of the victims we are studying and may help us to determine the cause of death. This training will also assist in determining the possible suspect or suspects in each of the cases.
E-mail to a friend

All About Natalee Holloway • Criminal Investigations • Colleges and Universities