By Danielle Zayas
Special to CNN






Editor's note: CNN is following four Bauder College students as they build their case files in the Chandra Levy and Natalee Holloway investigations. The following is one of the logs that each is keeping to document their cases. Danielle Zayas is a member of the Cold Case Investigative Research Institute. The views expressed in this article are not necessarily those of CNN, its affiliates or the schools where the campus correspondents are based. Got a tip? E-mail the class at ColdCaseTips@USACops.com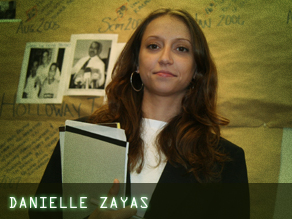 Log 6: Managing cases
August 2008
Times are tough right now. Gas prices are high, work is slow and the rent is due. But some things matter more in life than working for tips. We had a special Campus Crime event and I was not going to miss the opportunity to spend some time with a major figure in police management. I will work a double shift later.
Meeting retired DeKalb County Police Chief Eddie Moody was inspiring. He was sweet and kind as he talked about his slain friend and colleague, sheriff-elect Derwin Brown. But he was decisive and clear when he talked about the investigation of the 2000 slaying, and the team of officers who investigated the case of a well-known public figure gunned down outside his own home.
What a lesson to learn -- to put your feelings aside and do what you have to do. I cannot imagine grieving the loss of a friend while having to work on his murder investigation at the same time. Moody gave all of us a sense of pride in the work and made it clear it is important, that the families appreciate it and that it must continue.
Hearing Chief Moody speak about his experience supervising a high-profile case gave us an opportunity to better understand what's involved in publicized cases like the ones we're studying -- the Chandra Levy slaying and Natalee Holloway's disappearance.

Learn more about the students »
Moody explained the importance of building a team. Each case is different and should be treated as such. Making sure to use each team member to his or her full potential is important. You need the best team and the only way to get that team is to have the best person doing each job. Making sure that you have the most qualified people should not limit you to your own department. The FBI, Homeland Security and other local law enforcement should be able to come together to solve the case.
In my eyes, it shouldn't matter whose case it is, but rather how we are going to solve it. Resources are also very important, as is having "free hands." This is basically the ability to do what is necessary without having to ask permission. Officers need to know they don't have to wait for permission to contact someone or get information. Time is of the essence, and in any case, the information becomes more difficult to find the more time goes by.
Don't Miss
Moody stated that in the high profile case he was involved in, "about 93 percent of the information received was bad." That is a lot! The details of how his officers went about weeding through all that information was overwhelming. I couldn't imagine how those officers felt.
In the cold case work that we do, we find a lot of dead ends too. After a while, you start to wonder when you are going to find that missing piece. These officers went through every lead, no matter how small. What is important to understand is that every piece of information, no matter how minute, is valuable. They are all brought together in the end to tell a story. One missing piece can change the whole story.
Moody explained different things you look at when investigating a suspect. The first is looking into financial records. By determining where a person's income comes from, you can determine what they do with it. You can also see how they get their money.
"You always follow the money," Moody said.
The second is looking at the person's family habits. How they interact, what kind of person they are and how a suspect might have grown up are all key factors when determining who is a "good" suspect. Also, especially with male suspects, it is important to speak with people he had relationships with in the past. Men have a tendency to say things to their significant other that they may not normally tell anyone else.
"Pillow talk has busted many a man," Moody said.
Moody also told us he agreed with our plan of action for releasing our theories of the Levy and Holloway cases to law enforcement. We all felt his endorsement of our results gave us solid footing to move forward.
Log 5: Narrowing it down
July-August 2008
The team's main focus now is to narrow down all of our suspects. We need to determine who fits into our profile and then explore those suspects further. The team has split up and started creating suspectology for the remaining two suspects.
Once each member has completed a report, we will all come together and break down each detail. This is when we hash out facts, not theories. We must make sure that we look at every little piece no matter how insignificant it might seem.
Once we complete our task, we will get in contact with Auburn University at Montgomery and Faulkner University so that we can obtain information that they have compiled on their end.
We are hoping that all three colleges will have the same suspect(s) results. If our profile fits with theirs, we may see some light at the end of a very long tunnel. There is still a lot of work to be done. The team needs to stay focused and continue to work together.
Once the suspectology is completed and the meeting with Auburn and Faulkner finished, we will go back to work on the plan for law enforcement on how to reopen these cases.
The final report will have our findings as well as recommendations on how to proceed with each case and the reinvestigation.
These recommendations will include who should be reinterviewed, items that may need to be tested or retested, and advances in forensic technologies since the original investigation that may be of assistance.

Log 4: Making the pieces fit
June-July 2008
Ralph Daugherty came on June 26 to the CCIRI to speak to the team about his experiences writing his book "Murder on a Horse Trail." Ralph, as he liked to be called, was very helpful in piecing together some gaps that the team had in its timeline.
One of the first questions I asked Ralph was why he decided to write the book. He said his initial interest arose when the D.C. Police Department released an edited version of the Web sites that Chandra visited on May 1.
Computers being his field, Ralph said he was interested in trying to help find some sort of connection these Web sites might have in locating Chandra.
From there, his interest grew when some of the information that he uncovered did not seem to add up. Ralph started collecting newspaper clippings and doing his best to validate sources, trying to determine what was truthful and what was not. Validating information was difficult because he would find a statement that was reported as fact but numerous media reported it differently.
My next questions were about the gap in our timeline.
Between December 2000 and April 2001, we did not have any confirmed activity listed for Chandra. Ralph was able to add a few details. He was also able to add some insight into the number of Web sites that Chandra visited.
The team was curious as to whether her activity was "common" activity for someone who was familiar with a computer. In other words, could someone really have visited that many sites in that amount of time? Or was someone trying to make it look like she had been "surfing."
It was very exciting to be able to sit down and ask Ralph some real questions about his book. It gives the team a better understanding of what the mood was in Washington at the time.
We as a team started to understand the job the D.C. Police Department had with so many little pieces that just didn't seem to add up. The scream, the computer, the missing jewelry, the clothes, the keys, no ID, no cell phone, no plane ticket.
Log 3: Graduation
June 2008
Antonio, Charna-Marie and I all graduated together with associate degrees in criminal justice. I was fortunate enough to receive the Outstanding Student Award and was really excited that my family was able to be there to see it.
The team and I are still working on our suspectology for the Chandra Levy case.
We are including information on each identified suspect such as marital status, criminal history, educational background and sexual history.
Tapping into the suspects' pasts helps to give us a better understanding of what type of person we are looking at. Whether the person is an abuser, has been married several times or has a college degree helps the team to make a determination on who we are dealing with.
Who is the suspect? What do they do? Where are they from? When did they become of interest and why?
Criminal history is one of the most important aspects of this study to me. Making a link between previous offenses and the possibility of the current offense at hand is damaging. The education of the suspect is also extremely important -- and family dynamics play a role in determining the mental stability of a suspect as well as possible motives.
Researching their work history also helps to determine how reliable a suspect is -- whether it's showing up for work on time or any incidents that occur while on the job. Linking the suspect to a victim must include all of these areas. You must never underestimate the power of a small a detail or the importance of a bit of information.
The smallest tidbit coming from a source that you never originally intended to look at could be the thing that breaks your case.
This includes medical history. Often, medical histories are not included in a case file but they can be filled with valuable information.
For example, some violent crimes are not reported but there might be records of medical treatment. This is often true in domestic violence cases. These medical records help to determine if a suspect is violent, vulnerable or prone to physical injury.
To properly prosecute a suspect for a crime you must not only link that suspect to the victim but also to the crime scene. Why would they go after this person? What would the suspect gain from this crime? When was the suspect there? You can never have too much personal information on a suspect.
Next we will cross-check the suspectology with the victimology. The victimology is being done at Faulkner University in Alabama. They are one of the CCIRI partner colleges along with Bauder and Auburn University Montgomery. We hope both of these studies result in the same suspect.
Log 2: Learning from the pros
May 2008
It was a really busy month. I am near the end of my internship with Betsy Ramsey of the DeKalb County Solicitor's Office. She is one of the experts that we have been fortunate enough to work with on the cold cases.
It has been such an amazing experience to be able to work hands-on with someone like Ms. Ramsey and see what it is that criminal justice professionals like her really do on a day-to-day basis. I will miss being there.
Graduation is at the end of this month, and I am trying to get ready. My sister and mother are coming in from California for the ceremony, and I am really excited. Once my two-year degree is completed, I will start on my bachelor's degree. I have a job lined up and cannot wait to start my career in the criminal justice field.
Having the opportunity to work with the CCIRI has provided me with some excellent experience that I could put on my résumé. Although I am graduating, I will still continue to work on the cases with the group. Both current students and alumni in the field are encouraged to continue working on the cases through their duration.
I couldn't just stop working on them anyway. I have invested a lot of time and energy in each of these cases, and want to make sure that we have some positive outcome.
On Thursday, May 15, the CCIRI students were able to meet with a couple of the experts and compare notes. Shawn LaGrua, a career prosecutor, was very involved in our process of eliminating and narrowing down our list of suspects. It was great to have her there and get her opinion on what we had. She brought another aspect of how to look at these cases.
She explained to us the type of information we would need to put together a case that might be successfully prosecuted against the various suspects and how to slowly put together the pieces of the person's life to figure out just what happened.
The rest of the students and I have divided some of the work on suspect profiling and set a deadline. Once this is complete, we will met with Ms. LaGrua again and get her thoughts on our assessment of the suspectology.
Log 1: Hands-on experience
January-April 2008
I currently work with the Solicitor's Office in DeKalb County as a student intern. I go to court every day, working with victims of crime and their families. This opportunity has shown me what is needed for probable cause.
I constantly look at our research as "what will the prosecutor need" to successfully see this case through to conviction. This has helped me to evaluate the facts and evidence of both cases and not just point the finger at the suspect that "looks good for it."
I have been very lucky to be able to attend training on conducting interviews and interrogations that was facilitated by William "Bill" Wagner, a former D.C. police officer during the time that Chandra Levy was missing.
This training was also attended by law enforcement officers from surrounding states and jurisdictions. During the training, we learned how to interview someone properly and how to proceed when you receive certain responses.

Learn more about Danielle Zayas »
We also learned what signs to look for if someone is lying during an interview or interrogation and how to obtain a confession. Wagner also wanted to prove that not everyone asks the right questions. So he paired us off into teams of two with one person being a witness to a crime and the other being the officer. It was good to know that even being the only students, we were not the only ones to ask the wrong question.
The knowledge that we obtained during this training will be used in both the Levy and Holloway cases. We will be able to use these tools to help determine truthful and untruthful responses given by potential suspects during the original investigations of both cases.
We will look at transcripts and videos and attempt to help rule possible suspects in or out of consideration in these cases. We will also analyze what could or could not have been done to help obtain the information needed to resolve these cases.

We hope to also be able to conduct some interviews of our own. This will be just one portion of the type of research and analysis that we will do in evaluating these two cold cases to help us find possible conclusions.
I was also able to meet with Susan Levy, Chandra's mother, during the course of our investigation. Being able to do this was very meaningful to me because, just like in our previous case dealing with the Atlanta child murders, having the family members' blessing is a great motivator to work toward helping to find some resolution in the cases.
E-mail to a friend

All About Natalee Holloway • Chandra Levy