By Paul Vercammen and Ann O'Neill
CNN

Watch for the verdict on CNN.com/Live and CNN.com/crime.
LAS VEGAS, Nevada (CNN) -- Thirteen years to the day after a Los Angeles jury acquitted him of two murders, another jury began deliberations Friday in O.J. Simpson's armed robbery and kidnapping trial.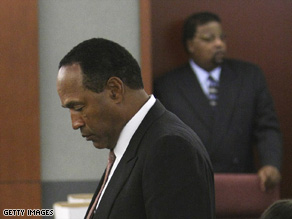 O.J. Simpson and Clarence "C.J." Stewart face a dozen robbery, kidnapping and conspiracy counts.
The nine women and three men on the Las Vegas, Nevada, jury began deliberations shortly after 11:30 a.m. ET. Eight hours later they had dinner delivered so they could continue deliberating, Clark County Courts Administration spokesman Michael Sommermeyer said.
On Thursday, the jurors were instructed on the law and heard lawyers' closing arguments in a case involving a hotel room confrontation over sports memorabilia Simpson claims was stolen from him.
A prosecutor charged that Simpson led a group of hulking men who used threats, guns and force to take photographs, footballs and other items from memorabilia dealers Bruce Fromong and Al Beardsley in September 2007.
But a defense attorney said Simpson was was targeted by police out to get him and cohorts eager to make "big bucks" off him.

Watch highlights of the closing arguments »
Simpson "is the person who put these crimes together," Clark County District Attorney David Roger said. By using guns and threats, Simpson crossed the line into criminal acts, he added. His colleague, Chris Owens later urged jurors to convict an arrogant, angry Simpson of offenses "against the peace and dignity of the state of Nevada."
Defense attorney Yale Galanter portrayed Simpson as a victim of his own infamy, a cast of dodgy characters, and police and prosecutors looking to put a notorious criminal defendant behind bars.
"The intention was to set him up, make money off him," Galanter argued. "He is not guilty."
Exactly 13 years ago -- on October 3, 1995 -- a jury deliberated just four hours before finding Simpson not guilty in the deaths of his former wife, Nicole Brown Simpson, and her waiter friend, Ronald Lyle Goldman. Although Clark County District Court Judge Jackie Glass prohibited mention of the murder case, it remained an unspoken undercurrent throughout the robbery trial.
Besides the stories of four co-conspirators who testified for the prosecution, jurors will decide the robbery-kidnapping case with the help of a collection of secretly recorded audiotapes.
"We have so much more than a coordinated series of acts," Roger argued. "We have words that come out of the defendants' mouths themselves."
Galanter countered that the tapes do reveal a glaring truth about the case: Police and prosecutors targeted Simpson from the beginning.
"You hear the Las Vegas Police Department being surreptitiously recorded," he said. "They are making jokes; they're saying things like 'We're going to get him.' " He played an excerpt, adding, "That's how this case got started. Yup, they wanted to get him."
This case has taken on a life of its own because Mr. Simpson is involved," Galanter continued. He pointed out that one witness pocketed $210,000 from the tabloid Web site TMZ and other media outlets. Other witnesses cut book-publishing deals.
"They were competing over who could get to the tabloid shows first," he said.
Simpson and co-defendant Clarence "C.J." Stewart are charged with 12 counts, including conspiracy to commit a crime, robbery, assault and kidnapping with a deadly weapon. If convicted of the most serious charges, both could face life in prison.
Neither Simpson nor Stewart testified during the trial, and witnesses gave sometimes conflicting and contradictory testimony. The most compelling evidence for both sides came from the audiotapes.

Watch Simpson excercise his right to remain silent »
Stewart's lawyer, E. Brent Bryson, said his client, who was almost an afterthought during the trial, had nothing to do with any guns or any conspiracy.
"If he's guilty of anything, he's guilty of being an errand boy and a nice guy," Bryson said.
Bryson attacked the motives and credibility of the victims and former co-defendants, saying, "If you can't trust the messenger, you can't trust the message."
For the prosecution, conversations taped by collectibles middleman Thomas Riccio took jurors from the poolside planning to the profanity-laced hotel room confrontation.
"In the state of Nevada, we are a civilized society," Roger told the jury. "If property is taken from us, we don't go into rooms with guns and demand our property. That is robbery.
"When they went into that room and forced the victims to the far side of the room, pulling out guns and yelling, 'Don't let anybody out of here,' that's kidnapping," the prosecutor argued.
He played several excepts from the crackling, profanity-laced tapes to underscore his points.
The crucial evidence for the defense also comes from audiotapes: a voice mail from a key prosecution witness who seemed willing to tailor his testimony for a price and recordings of some Las Vegas police personnel laughing and joking about Simpson's legal past.
Police were called to room 1203 at the Palace Station Hotel and Casino shortly before 8 p.m. September 13, 2007. Shortly after midnight, detectives visited Simpson at his room at the Palms Hotel, and he told them he was just trying to recover property that had been stolen from him.
"Why are they not in trouble?" he asked about the alleged victims, memorabilia dealers Beardsley and Fromong, according to police reports filed in the case. Both men testified for the prosecution.
It was the introduction of guns and threats that elevated what Simpson portrayed as a tense encounter among former business partners to what prosecutors say was an armed robbery and kidnapping.
Four of Simpson's former co-defendants cut plea deals. Three have criminal records. Two were the prosecution's star witnesses.
Michael McClinton testified that before they entered the room, Simpson instructed him to "look menacing" and show his gun. Witness Walter Alexander testified that Simpson asked him to "bring heat."
"It was Mr. Simpson who primed Mr. McClinton and Mr. Alexander out in parking lot that the victims might have guns," Roger said. "It was Mr. Simpson who told Mr. McClinton outside the hotel room to 'Show them your gun and look menacing.' "
In addition to the testimony from the former co-defendants, the tapes prove that the armed confrontation was planned in detail, including the use of guns, he added.

Watch McClinton and Beardsley on the stand »
Simpson has told police that he had no idea the people with him were armed.
The hotel room was small and crowded; the men were large, the prosecutor added: "For Mr. Simpson to claim to people that he did not see any gun is flat-out nonsense. These defendants talked about guns. Mr. Simpson asked them to bring guns, and they saw guns in the room."
The defense countered with its own audiotape, one that could damage Alexander's credibility with the jury. On the tape, Alexander can be heard offering to tailor his testimony to benefit Simpson if he's paid enough. Simpson's only defense witness, Thomas Scotto, characterized the call as an extortion attempt.
The case that could put Simpson behind bars for the rest of his life began with a phone call from sports memorabilia dealer Riccio, a talkative convicted felon with a Captain Kangaroo haircut who made the rounds on network news shows immediately after the hotel room fracas and admitted on the stand that he was paid a total of $210,000 by several media outlets.
Riccio, who was not charged in the case, testified that he didn't think twice about recording Simpson when asked for help retrieving what Simpson claimed was his property. Defense attorney Galanter said Riccio's intent all along was to cash in on Simpson's fame.
For Stewart, Simpson's remaining co-defendant, the Riccio tapes were crucial to establishing his claim that he was not involved in the alleged plan to bring guns to the meeting. A relative testified that Stewart was elsewhere during the planning stages.
E-mail to a friend

All About O.J. Simpson • Criminal Trials • Las Vegas