MIAMI, Florida (CNN) -- With his webcam trained on him, a Florida teenager died in his bed of a drug overdose while others watched over the Internet, officials said Friday.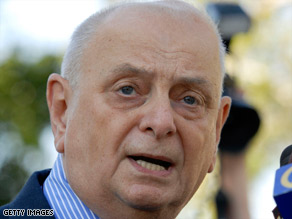 Broward County Medical Examiner Joshua Perper said it was clear that the teen committed suicide.
Some of those watching urged him to take more drugs while others debated whether he had taken enough to kill himself. Hours passed before someone finally notified authorities that he appeared lifeless, officials said.
The teenager was pronounced dead Wednesday afternoon in Pembroke Pines, Florida, said Wendy Crane, investigator for the Broward County Medical Examiner's Office.
The cause of death was found to be an overdose of benzodiazepine, an antidepressant, as well as other opiate drugs used to treat depression, Crane said. CNN is not reporting the teenager's name.
The youth's body was found in his apartment behind a locked door, which police broke down. Police turned off the webcam and computer, Crane said.

Watch CNN's John Zarrella detail the webcam suicide »
She said he did not take anything on camera, according to footage she reviewed, but he blogged between 3 and 4 a.m. Wednesday that he had taken an overdose of drugs. He also posted a suicide note.
He was seen lying on his bed on the streaming video, posted on the Web site Justin.tv. On the site, a person can stream video from a Web camera while "viewers" chat with each other in a box next to the video, Crane said. The comments and video have since been removed from the Web site.
Crane read the comments posted during the 10 hours the youth could be seen lying on his bed.
As the teenager was lying on his bed, she said, people were typing things like, "Oh, that's not enough to kill you." Others, she said, were egging him on, saying things like "Go ahead and do it." Still others thought it wasn't real, Crane said.
About 11 a.m. Wednesday, Crane said, some viewers began to get concerned, writing things like, "He's not moving" and "He's not breathing."
One contacted the site's moderator to get the youth's contact information, she said, and the police were notified.
The teen "has made threats in the past regarding suicide and possibly had previous attempts," she said.
Justin.tv CEO Michael Seibel said in a statement, "we regret that this has occurred and want to respect the privacy of the broadcaster and his family during this time."
Pembroke Pines police Sgt. John Gazzano said the case is under investigation.
Broward County Chief Medical Examiner Joshua Perper said the teen may have stood a chance of surviving had someone notified authorities right away.
"If somebody had come immediately after he took tablets, then probably not all the tablets would have been absorbed. Then, therefore, they could wash his stomach and get rid of the additional tablets. Certainly, he would have had a much better chance."
The youth's father said he is "appalled" that people watched and did nothing.
"I wish they would have given him the assistance that he was crying out for," the father said. "They did not respond to him. They only did long after the fact."
He said his son, who attended Broward Community College and wanted to be a paramedic, had bipolar disorder and was being treated for depression.
The father dismissed the suggestion that people thought the video was fake. "It was not fake, was it? You don't assume. You have to find out if it was true or false."
Perper said the existence of a note left no doubt that the young man committed suicide.
"He left a note, which is very clear. And our examination did not reveal any evidence of trauma or any evidence of natural disease on internal examination. And we did a screen of the urine, which revealed the presence of medication, mostly antidepressant drugs," Perper said.
The father said he had no reason to believe his son was having problems.
"He was a good son," he said. "I'm sorry that no one could help him when I was not around to help him myself."
E-mail to a friend

CNN's Rich Phillips, Kim Segal and John Zarrella contributed to this report.
All About Suicide • Broward County