By Josh Levs
CNN

(CNN) -- DNA evidence links a man in custody to the killing of a 26-year-old Arkansas television news anchor, police say.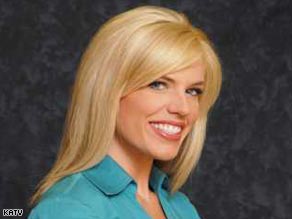 Anne Pressly, 26, was a news anchor at KATV in Little Rock, Arkansas.
The suspect, Curtis Lavell Vance, consented to DNA swabs, according to a police affidavit released Monday. He denied being in Little Rock, Arkansas, when Anne Pressly was killed, police said.
The state crime lab "confirmed with all scientific certainty that Mr. Vance is the DNA contributor of the suspect in Ms. Pressly's murder," the affidavit said.
Investigators are "110 percent" certain Vance killed Pressly, who was the morning news anchor for CNN affiliate KATV, said Lt. Terry Hastings of the Little Rock police.
Video of Vance's arrest last week, on KATV's Web site, shows the 28-year-old suspect shaking his head when someone asks whether he killed Pressly. He has made no public statement; nor has an attorney on his behalf.
The Little Rock public defender's office said it will be representing Vance but is making no comments at this time.
Pressly was found beaten at her home in October.
In an interview Monday on NBC's "Today Show," Pressly's parents said evidence shows Pressly was sexually assaulted.
Hastings said police are not commenting on that.
The affidavit describes "multiple blunt force injuries."
Pressly's mother, Patti Cannady, told NBC, "She fought for her life. She fought her attacker. Her left hand was broken from trying to fight this man off."
Cannady offered disturbing details. "Six weeks ago this morning, I found my daughter beyond recognition with every bone in her face broken, her nose broken, her jaw pulverized so badly that the bone had come out of it; I actually thought that her throat had possibly been cut. Her entire skull had numerous fractures from which she suffered a massive stroke."
She added, "This monster stole my daughter's innocence. He took her life. He took her identity. He took our lives."
Hastings told CNN that DNA evidence also ties Vance to a rape in April in Marianna, Arkansas. "It was a forensic match between their suspect and him. They helped us locate him," he said.
Hastings said investigators do not believe Pressly's being on TV had anything to do with the killing. "I think he saw her someplace, probably followed her home with intention of robbing her. And then went from there," he said. The killer did rob Pressly, taking her purse, Hastings said.
Pressly's parents said the case will be tried as a capital murder case, but the prosecutor has not told them whether he will seek the death penalty if Vance is convicted.
E-mail to a friend

All About Little Rock